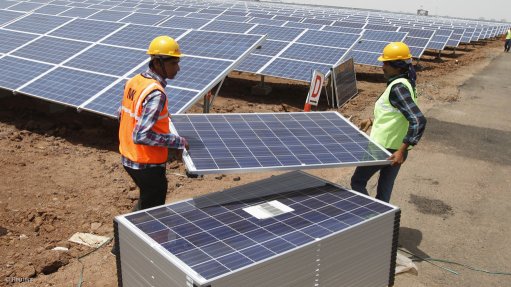 UP TO STANDARD Conformity assessment involves ensuring clients' power assets are developed, constructed and operated in line with all applicable regulations
Photo by: Reuters
The power industry is a global community that has developed a strong habit of sharing best practice and discussing joint problems – making events like POWER-GEN & DistribuTECH Africa invaluable for advancing the sector in times of disruption, says testing, inspection and certification services provider Bureau Veritas power and utilities global market lead Joerg Gmeinbauer.
"With the global consensus to prioritise climate change in policymaking, the traditional targets of competitiveness and security of supply are now under pressure and the whole industry needs to adjust and reinvent itself. New players are emerging, implementing new ways of working and new business models, and the whole sector is getting more connected through digitalisation and the Internet of Things."
Gmeinbauer points out that this imposes challenges on the sustainable development of the power sector in sub-Saharan Africa in terms of asset origination, as well as asset operation and ownership – in power generation and transmission and distribution.
"Long-term market fundamentals are solid, with local natural resources abundant across all generation technologies. Electrification levels are still very low, with policy favouring local infrastructure building and power having become the top priority for politicians across the continent. However, in the short term, structural constraints and political and regulatory risk will inhibit market activity."
In light of these challenges, Gmeinbauer will discuss the importance of conformity assessment in the region at POWER-GEN & DistribuTECH Africa, held at the Sandton Convention Centre, in Johannesburg, from July 18 to 20. He will introduce the methodology of testing, inspection and certification – as it is applied to assure quality, health and safety, environmental protection and social responsibility – by presenting practical examples. These will demonstrate the impact of conformity assessment on the facilitation of trade, and reduction of transaction cost in sub- Saharan Africa.
Gmeinbauer explains that conformity assessment involves assessing clients' power assets and ensuring that they are developed, constructed and operated in line with all applicable regulations. This also includes current industry best practice in terms of quality, health and safety, environmental aspects and technical parameters. He stresses that this is particularly important in a market where finance is scarce and only the best possible projects can obtain funds for construction.
"Bureau Veritas facilitates transactions by bringing finance and the many parts of the supply chain towards the same level of understanding, optimising transactions and, hence, bringing transaction costs down. "With our wide footprint in conventional, renewables, hydro, nuclear, as well as transmission and distribution, we are well equipped to cater to the diversity of the African power sector," he concludes.