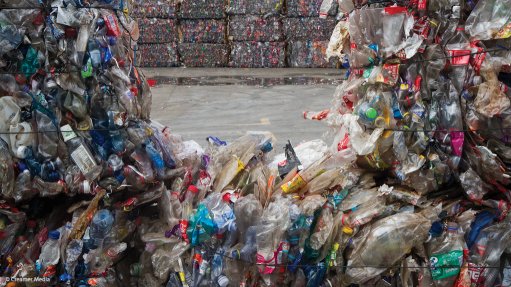 Photo by: Creamer Media
If countries are to avoid drowning in a sea of plastic waste, and unlock benefits of proper waste management, there needs to be an urgent and comprehensive systems response by governments, business, sustainability experts and civil society, says Sustainable Seas Trust's African Marine Waste Network (AMWN).
The network is hosting a five-day conference starting May 23 with the theme "towards zero plastics to the seas of Africa".
The conference is set to bring together decision-makers across the plastics value chain, from the public and private sectors, to formulate concrete action plans to address Africa's growing plastic pollution problem.
AMWN aims for a Guide to the Development of National and Regional Action Plans to be published by October.
The United Nations Environmental Assembly also intends to develop a legally binding global treaty on plastic waste by 2024.
Sustainable Seas Trust CEO and AMWN director Dr Tony Ribbink says Africa is the second-most polluted continent and requires proactive steps and unique solutions to deal with its waste challenges.
He points out that strategies that work in other parts of the world will not necessarily work in Africa.
The Council for Scientific and Industrial Research finds that most landfills in Africa are uncontrolled dumpsites and, at those that are controlled, only 55% of waste is collected and a mere 4% of it is recycled.
This means that significant quantities of waste are being burnt or leaked into the environment, which has serious economic, social and environmental impacts, which will only worsen if Africa's 1.3-billion population doubles by 2050, as forecast.
Ribbink says AMWN's draft decision-making framework will recognise that all African countries are not the same and some solutions will not make economic sense across all countries.
"It is going to require everything from upstream interventions by brand owners and retailers to downstream solutions by municipalities and businesses to drive improved waste management and recycling. We must have all stakeholders pulling in the same direction if we want to solve the waste problem in Africa," Ribbink notes.
To this end, the conference provides an opportunity to present the latest thinking on various solutions, from regulatory aspects to technology and education and awareness.