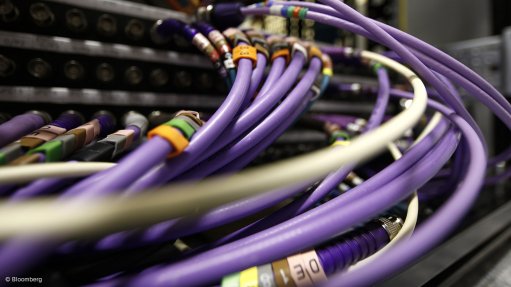 TECHNOLOGY TAKEOVER The Technology Innovation Conference is reflecting on progress made in creating connectedness among government entities, citizens and businesses
Photo by: Bloomberg
Information and communication technology (ICT) experts and decision-makers from both the public and private sectors and from academia are gathering at the Technology Innovation Conference hosted by the Gauteng provincial government (GPG) to analyse the wave of digital and technological innovation that is sweeping across the South African economy.
Themed 'Building Innovative Technology Ecosystems for a Modernised City Region', the event is tracking progress on plans to modernise government services through ICT to improve service delivery in Gauteng. The GPG is sharing its future plans to identify areas of collaboration and direct investment from both the public and private sectors, within the framework of the Transformation, Modernisation and Reindustrialisation (TMR) programme as set out by Gauteng Premier David Makhura.
With this programme, the GPG is striving to build Gauteng into an integrated, economically inclusive, socially cohesive and globally competitive city region and a leading economic hub with world class infrastructure, underpinned by smart and green industrial and socioeconomic development.
The conference reflects on progress made in implementing the Gauteng Cities Region eGovernment strategy, which aims to create connectedness among government entities, citizens and businesses. The risks and opportunities created by the Fourth Industrial Revolution are being assessed and discussions are focused on its impact on Gauteng's economy. The conference is also exploring how innovation creates opportunities to stimulate skills development and the growth of the digital economy.
The conference is hosting more than 1 000 delegates and more than 300 companies are in attendance. There are more than 40 speakers at the conference, including private sector led alliance Africa ICT Alliance vice chairperson Adrian Schofield, research network Research ICT Africa executive director Alison Gillwald, and South African Portuguese Chamber of Commerce CEO and president Carlos Oliveira.

Additionally, speakers also include specialist cybersecurity company Wolfpack Information Risk MD Craig Rosewarne, information security company Performanta Group CEO and cofounder Guy Golan, the Council for Scientific and Industrial Research research group leader Jabu Mtsweni, and stakeholder manager Lesley Mamaila and ICT Solutions GM Mariana Kruger from business connectivity solutions portal MTN Business.

The event is sponsored by two-way radio distributor Altech Radio Holdings, investment holding company Altron, geospatial industry software provider Esri South Africa and credit bureau TransUnion.
The conference is taking place on February 1 and 2 at the Gallagher Conference Centre in Midrand, Johannesburg.