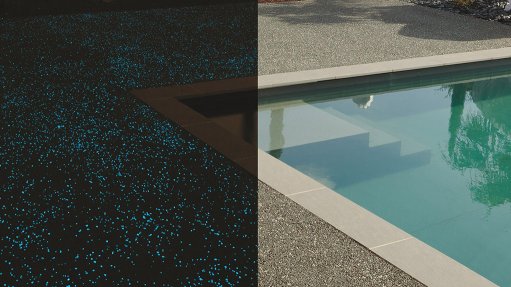 GOT IT GOING ON Luminescent concrete, which Chryso has termed 'sexy concrete', serves as an appealing primary source of light, and is currently very popular
With the recent trend of aesthetic appearance playing a more prominent role in construction and the built environment, construction chemicals company Chryso Southern Africa and its 100%-owned subsidiary a.b.e. Construction Chemicals are offering a number of aesthetic concrete product ranges to satisfy this demand.
Chryso concrete aesthetics project manager Shaun Gayaram tells Engineering News that this trend started in South Africa about four years ago, in new lifestyle and eco estates as well as several major construction projects, such as the ongoing Leonardo building, in Sandton, the Mall of Africa, in Midrand, Time Square, in Pretoria, and the extension and revamp of Menlyn City. It is also evident in corporate construction, such as integrated energy and chemicals company Sasol's head office, which are favouring aesthetic appeal finishes that differ from the normal commodity finishes of tiles or paint.
In light of this, Chryso acquired decorative concrete industry developer Moderne Méthode in November 2016 and, as of March last year, has been bringing the company's range of aesthetic concrete products to South Africa.
This aesthetic concrete range encompasses an array of products, adding value to concrete for aesthetic appeal, says Chryso communications manager Elrene Smuts.
The products – a millimetric concrete coating of between 1 mm and 2 mm – are added on top of an existing surface. Gayaram acclaims that they are low maintenance, high strength, abrasive resistant and do not fade. The products' aesthetic appeal and long wearing properties make them a better alternative to materials such as tiles, while previous concrete used for driveways or parking areas helps manage rain water and prevents surface flooding.
Gayaram indicates that popular products from the range are exposed aggregate concrete, polished/resin finish concrete, granite/sanded effect concrete and integrally coloured concrete. Another "high flyer" is luminescent concrete. Favoured because of its novelty, it is added around pools or walkways, and serves as an appealing primary source of light – a concept the company has coined 'sexy concrete'.
"For a new building, the concrete product is designed to adhere to the strength of the existing structure, and its weight is negligible, so there is never any danger of compromising the building's integrity," Gayaram reassures.
Meanwhile, supplier of specialised construction products a.b.e. has been operating in South Africa for more than 80 years, and Chryso for more than 20 years. Chryso acquiring a.b.e. in 2010 allowed for the successful integration and strong cooperation of all departments and divisions, with this enhancing the group product offering.
With the addition of this new product range to existing businesses between Chryso and a.b.e., Chryso Southern Africa Group now offers a full new construction and refurbishment range of products.
Gayaram explains that Chryso and a.b.e. share the same focus – to design, produce, market and deliver one-stop value-added solutions for clients – but the product ranges offered by each company are different. However, each company can source and supply the other's products to service a client.
Gayaram explains that there has been a good market response to the new range thus far, so much so that the company's head office in Paris, France, is looking to its South African division for project references.
The dual versatility of these products manifests in two different trends from overseas, which are being mirrored in South Africa. Countries, such as Dubai, exhibit modern finishes on their buildings and construction projects, while other countries, such as France, tend to showcase an old-fashioned look for residential buildings. Paris is a trendsetter in this regard, with the streets displaying a generic, antiquated look. However, to achieve this look, houses and buildings have to be refurbished. Using specific aesthetic products can achieve either of these looks.
Research and Development
While other companies are offering similar products, Gayaram points to Chryso's emphasis on research and development as a differentiating factor in the market.
He says the company has an academy in the pipeline, where it will train applicators on how to use these products. The academy will either be a joint training facility with a.b.e. or a separate one at Chryso.
Acquiring Moderne Méthode also included Béton Academy, a training academy that can be established in any country where the company operates.
a.b.e. has had a training centre at the company's Boksburg location for a number of years, and Chryso will leverage off its experience and expertise, as well as that from the Béton Academy, to operate their new academy.
bauma Exhibition
Chryso will exhibit at this year's bauma CONEXPO AFRICA, the international trade fair for construction machinery, building material machines, mining machines and construction vehicles, in Hall 5, informs Smuts. Five Chryso product ranges will be featured, showcasing the company's innovations – of which the aesthetic range forms part. The group also aims to make the market more aware of how Chryso and a.b.e.'s new products can offer clients new solutions, she says.
"While we constantly strive for innovation, our core business focus remains the same. This aesthetic product range is an additional component, which we are driving to capitalise on market demand."
The expo will take place from March 13 to 16 at the Johannesburg Expo Centre.