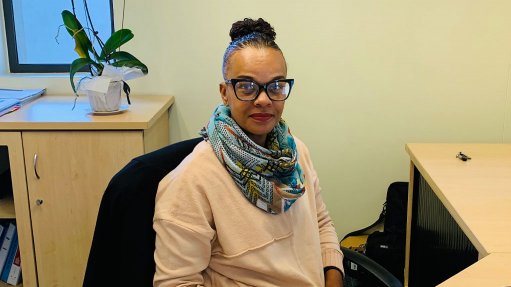 Donique De Figueiredo
Black-owned construction group Concor is implementing a youth development strategy that is focused exclusively on education and skills development, which the company views as the most critical driver of ongoing transformation.
Concor's history of contributing to youth development predates its emergence, in 2017, as an independent contractor; a development that arose when a Southern Palace-led consortium purchased the Murray & Roberts' infrastructure and buildings division.
The strategy has since evolved, however, and employee engagement and talent manager Donique De Figueiredo reports that it currently targets youth across the education spectrum, from senior primary school all the way to tertiary and post-tertiary education.
Within that continuum, Concor seeks to support learners, tertiary students, out-of-school youth and even young entrepreneurs, partly to build its own talent pipeline, but also to maintain its licence to operate in communities where youth unemployment remains worryingly high.
"We believe that education and skills development enable access to the game, creates the skills you need to stay in the game and creates the competitive edge needed to succeed in the game," De Figueiredo explained in an interview that coincided with South Africa's Youth Month.
The strategy, which continues to evolve, has emerged from a bottom-up needs assessment, which has highlighted the importance of education and skills in helping young people to secure employment and, in some instances, even start their own businesses.
Concor's strategy for engaging with youth not directly employed by the company has five components, including:
a corporate social investment programme that funds extra tuition and resources for learners from grades seven to 12, with a particular focus on supporting nongovernmental organisations that teach science, technology, mathematics and English;
bursaries, directed by the Group's operating divisions and guided by Concor's project pipeline and skills needs, awarded to students with an interest in built-environment studies. Bursaries cover the cost of tuition, as well as textbooks and related miscellaneous items from a recipient's second year of study to graduation;
a graduate mentorship programme, through which former bursary recipients are absorbed as interns into the various divisions and participate in structured work-readiness activities over a two-year period. A total of 87 graduates have participated in the Concor Graduate Mentorship Programme over the last three years;
the recruitment of out-of-school youth into a learnership, or cadette training programme, to work as apprentices across various project sites; and
an enterprise and supplier development programme, through which startups within the built environment value chain are supported and nurtured over contract periods of five years. At present, Concor has 20 such enterprises on its vendor database, three of which are youth-owned.
Internally, meanwhile, the 'Concor Future Leaders' programme identifies talented individuals younger than 35, who are in the early stages of their careers, for specific mentorship, leadership development and executive coaching.
"These individuals are identified through our performance management processes and are given direct access to the group CEO and other executives. They also participate in 'think tanks' set up to address specific challenges or to consider innovative approaches to changes in the business environment," De Figueiredo explains.
She says the process has been important in helping to lower the overall age profile of Concor's future managers and leaders. There are currently 19 young people engaged in the Future Leaders programme, with the average age being 31 years old.
The number of individuals supported across the various initiatives remains relatively modest, but De Figueiredo says the outcomes have been overwhelmingly positive. While this is directly linked to the annual funding available, the targeted strategy also seeks to improve the quality, rather than quantity of educational outcomes.
The initiatives are also set to be sustained in the coming financial year, which has been negatively affected by the lockdown instituted in South Africa in response to the Covid-19 pandemic.
"The construction industry has been hard hit by the pandemic and all our youth development spending is, ultimately, aligned with the financial performance of the group. That said, our business plans for the coming year continue to reflect a commitment to all of our programmes."