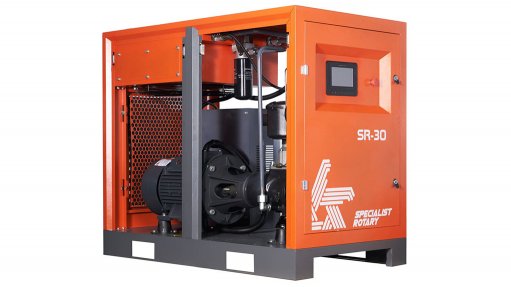 STANDARD PROCEDURE The machines get a minor service after 2 000 hours and a major service after 8 000 hours
As the authorised distributor of compressor manufacturer Detroit Air Compressors' SR Eco Series, compressed air equipment supplier and service provider Tru Compressor Solution will supply two large compressors of this series to a large mine in Mpumalanga.
The SR Eco Series was designed as a "nothing unnecessary" screw air compressor, says Tru Compressor Solution sales director Phillip Botha.
The range's capacity covers 10 hp to 350 hp, both in fixed speed units and variable speed drive units. The 10 hp to 60 hp range uses a standard programmable logic controller (PLC) system that offers easy operation and comprehensive protection. The design and manufacturing process has been greatly simplified, thus meaning lower production cost.
The IP23-rated motors are standard in a direct-drive fixed-speed configuration. The bulk of the cost savings are derived from the air-end and motor structure, as well as the standard liquid crystal display PLC used in models of up to 60 hp fixed speed.
Botha highlights that the SR Eco Series is specifically focused on the niche market that caters for small businesses such as tyre shops, panel beaters, spray painting booths, small workshops and factories.
"Owing to the compressors being more affordable than the normal compressors, this fills the gap in the market where clients are battling to buy compressors from the well-known brands.
"As a result, the Chinese factory that manufactures the compressors decided to make a compressor that will suit the current state of the South African economy," he says.
Botha states that the SR Eco Series provides engineered simplicity and reliability for clients.
Meanwhile, for its project in Mpumalanga, the client requested a simple solution for its compressed-air applications that would be affordable and efficient.
Botha points out that, since starting the company four years ago, Tru Compressor Solution has sold between 40 and 50 units, with clients buying new compressors to replace the old compressors.
No units have broken down in the past four years because they are serviced on a regular basis, he says.
The compressors get a minor service after 2 000 hours and a major service after 8 000 hours.
The compressors take about four weeks to be manufactured and it takes another four weeks for the machines to be shipped to South Africa.
"We keep stock of the compressors, we forecast what we are going to sell and order accordingly. If we don't have stock, it will take about eight weeks to arrive in South Africa because of the manufacturing and shipping processes."