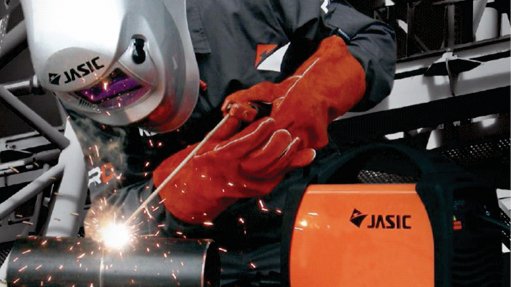 EXTENDED RANGE BMG's range of Jasic welding equipment comprises arc inverter welders, tungsten inert gas, metal inert gas metal active gas welders and plasma cutters
Engineering components provider BMG is committed to assisting industry create a healthy, clean and safe environment for welding procedures. This is achieved through the supply of the latest equipment and advanced technologies, supported by technical expertise, says BMG Tools and Equipment division business unit manager Andrew Johns.
"To enhance our services to the metal manufacturing industry, we have extended our range to now include welding solutions manufacturer and supplier Jasic welding equipment and tools. Jasic develops, manufactures and supplies welding inverters and integrated welding solutions, that represent value, reliability, durability and innovation."
BMG's range of Jasic welding equipment comprises arc inverter welders; and tungsten inert gas (TIG), metal inert gas (MIG), metal active gas (MAG) welders and plasma cutters.
These products include manual metal arc welders of 140 A to 630 A, DC TIG inverters of 180 A to 400 A water cooled pulse units, and ac/dc TIG units of 200 A to 500 A water cooled pulse units. These products also include MIG/MAG inverters of 160 A to 500 A dual pulse water cooled units.
He adds that plasma cutters cut 45 A to cut 160 A hand-held units, or complete with computer numerical control capabilities, are also available.
Johns adds that BMG specialists work closely with every customer to ensure the selection of the correct equipment and appropriate and safe use of each system.
He explains that factors for careful consideration include choosing the correct welding process and equipment, based on the materials to be welded and the material thickness.
"The most commonly welded materials are aluminium, mild steel, stainless steel and alloys. Many plastics can now also be welded. It is also important that only suitably trained operators use welding equipment."
BMG specialists also encourage businesses to be mindful about the hazards of welding fumes and how important it is to protect workers' health through the extraction and control of welding fumes.
Airborne welding fumes are a mixture of metal fumes and gases produced during welding operations, that are harmful to workers. Toxic welding fumes can contain a mixture of manganese, chromium VI, carbon dioxide, nitrous oxide and ozone – which cause serious short- and long-term health problems.
For this reason, it is critical that personal protective equipment (PPE) and workplace safety equipment is suitable for every welding and cutting application, Johns says.
Additionally, he notes that all Jasic components are subjected to rigorous testing, including vibration and drop, waterproof, safety, comprehensive parameter and electromagnetic compatibility tests, as well as harmonic wave and flicker testing.
BMG supports all Jasic welding products with a comprehensive three-year warranty.
"These products are suitable for safe and dependable use in many industries, including mining and quarrying, rail, aviation and shipping, power generation, chemicals and petrochemicals, agriculture, construction and general engineering."
Additionally, Johns conclude that BMG's Tools and Equipment division supplies and supports an extensive range of welding products and systems, which enhance efficiencies and ensure safety during metal working in all business sectors.
"Our welding products and services are tailored to meet specific customer requirements and include carefully-selected fume extraction products, designed to reduce risks associated with welding and cutting fumes, grinding dust and oil mist."
The company's portfolio of welding-related products also comprises a range of inverter welders, accessories, electrodes, welding wire and PPE.