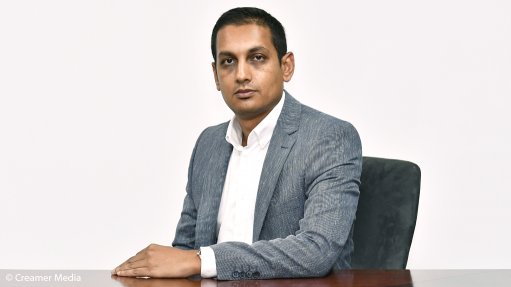 Renai Moothilal
Photo by: Donna Slater
The National Association of Automotive Component and Allied Manufacturers (Naacam) is not aware of any dedicated automotive component company that has closed its doors following the Covid-19 lockdown period, says executive director Renai Moothilal.
"But, I don't think the full impact of the Covid-19 crisis has been felt yet.
"There are definitely companies that are in financially precarious positions.
"There are continuous interactions between component suppliers, customers and supporting government agencies on how to prevent a situation where any company closes its doors permanently."
Moothilal adds that the reopening of the automotive manufacturing sector in May, and the subsequent move to full production under Alert Level 3 in June, has prevented a situation where a number of companies would have been unable to emerge from lockdown.
"If we didn't get going to some extent in May there was a very real possibility of that happening, especially for suppliers with export contracts," he notes.
He says that "pretty much" the entire component manufacturing sector is back at work, even if not at the same employment levels as before the lockdown.
"This is because of the implementation of short-time and reduced shift patterns, and so forth.
"Remember that the vehicle assembly numbers coming through while we were in Level 4, and now even into Level 3, are significantly lower than what were planned earlier this year.
"As we speak, not all original equipment manufacturers (OEMs, or vehicle manufacturers) are operational, and those that are, are operating at varying levels of reduced volume."
Moothilal says Naacam's research indicates that just more than one-third of component producers in South Africa will have used between 90% to 100% of their employees in June.
"Job losses are likely," he adds.
"A survey of Naacam members at the end of May indicated that 63% of respondents anticipating a long-term reduction in their total employee headcount.
"Right now, what that number will be is unclear, as companies need to rework their business strategies in line with the reduced market outlook in the coming period."
Material Supply
South African component makers are not currently reporting any line-stopping material shortages from local or overseas markets, says Moothilal.
"The challenge comes more in the slowdown of logistics chains, as opposed to material unavailability.
"Things like shipping line and airfreight congestion, slower customs processing and so forth, brought about by Covid-19 risk mitigation measures, are impacting availability rates.
"Interestingly, a more pressing problem comes about as a result of the restriction on international travel for individuals," he says.
"With the automotive sector being such a global sector, skilled personnel on both OEM and supplier level are often crossing borders for project-based assignments. This means we may see situations where a planned investment or technology activation does not happen on time because skilled expat workers are not able to come into the country."
Demand Fluctuations
One of the biggest challenges facing the South African component industry currently is the outlook on demand.
"Besides the reduced outlook, it's also about having to deal with fluctuations and uncertainty around short-term volumes," explains Moothilal.
"Frequent changes in OEM volume requirements due to market uncertainties introduce planning constraints.
"A respondent to the Naacam survey advised that whilst some customers are calling lower volumes, other customers are requiring increased volumes at short notice. This results in the supplier plant operating at an imbalance."
Another challenge is the "obvious cash-flow crunch" linked to lower levels of production, notes Moothilal.
"From an employee relations perspective that has an impact not just in terms of paying less wages and salaries, but also on how to spread the limited opportunities to work, and to maintain staff morale.
"Administrative delays in the Unemployment Insurance Fund – Temporary Employer/Employee Relief Scheme programme experienced by some companies compounds the issue.
"Also as we go into the winter months, added cost pressures like the Eskom winter tariff regime also come into play."
The issue of employee health and wellbeing is also key, says Moothilal.
"The sector is adhering to occupational health and safety best practice and risk-adjusted production strategies, but the infection has, and will continue to spread.
"Ensuring staff are protected and that production stoppages linked to Covid-19 infections are minimised has become an essential part of running a plant.
"Planning requirements now include things like managing staggered shift times, providing personal protective equipment (PPE), increased cleaning and maintaining the proper regulatory compliance framework.
"While this is indeed essential, it still adds complexities to an already advanced manufacturing production chain."
Moothilal says Naacam, and the National Association of Automobile Manufacturers of South Africa have tabled a package of possible stimulus measures with government that could assist the automotive sector in riding out the Covid-19 pandemic.
"Some of it has been implemented already, with other measures still under consideration. Government's Automotive Production and Development Programme remains a vital package of supply-side support, but there are also other levers that can be utilised. Tax policy for example, can be used to stimulate local market demand."
It is possible, for example, to alleviate some of the taxes on locally-made vehicles.
The Road Ahead
"The situation is unlikely to improve until South Africa moves through its infection peak and we start seeing some global market stabilisation," says Moothilal.
"I think it's important that we recognise that the current situation is problematic.
"There will be some business casualties and employment levels can be expected to drop, but let's not forget that we, as a sector and as a country, are in this sector for the long haul.
"The outlook for South Africa to be a competitive global automotive producer has not changed. There remain positives. From a component producing point of view, just think about the recent R1-billion Metair investment announcement to expand the company's facilities in KwaZulu-Natal. Something like that would only have been confirmed if there was an expectation of a U-shaped economic recovery, as a minimum. And then there are still the different new OEM production launches expected to happen as we go into 2021."
Moothilal also points to the "resilience and innovation" shown by many Naacam members as they continue to become involved in the production of PPE and medical support devices.
"Right now, Naacam and its members are central to projects in face shield and ventilator production, as well as developing a range of instruments to support risk-adjusted workplaces."