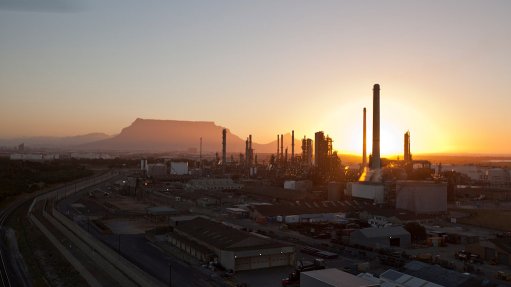 Photo by: Chevron SA
By Anine Killian and Henry Lazenby
Chinese oil company China Petroleum and Chemical Corporation (Sinopec) has undertaken to invest R6-billion to upgrade and modernise Chevron South Africa's (CSA's) Cape Town-based oil refinery, if it succeeds in its bid to acquire control of CSA.
Sinopec has made an offer to buy CSA's local assets for $900-million.
The investment is part of a set of public-interest conditions that Sinopec negotiated with Economic Development Minister Ebrahim Patel in terms of the Competition Act.

The Competition Commission has granted conditional approval for the proposed acquisition.
Sinopec is vying against international commodities giant Glencore International, which, in October, entered into an agreement with Off The Shelf Investments Fifty Six to acquire a 75% interest in CSA, as well as a 100% interest in Chevron Botswana, for $973-million.
"Government will not choose to whom Chevron sells control of CSA, but we will ensure that proper public interest conditions, in line with the Competition Act, apply to whoever is the successful bidder.
"The commitment by Sinopec to invest in the refinery will enhance and increase effective output of locally refined oil products and improve health and safety standards in the refinery's operation," Patel said in a statement on Thursday.
He added that the agreement also provides for Sinopec to increase the level of black economic empowerment ownership in the local company from 25% to 29%, which will include an employee ownership component.
The Chinese investor has also committed to ensuring that no jobs will be lost because of the merger and that the company will retain at least its current aggregate level of employment for a five-year period.
"Job creation and improved investment in South Africa are critical, as are deeper and bolder economic inclusion measures. We look to the oil industry to do more on all these metrics. We will also engage with the current minority shareholders to secure similar undertakings on jobs, investment, procurement and empowerment," Patel said.
He added that the commitment by Sinopec showed a strong appetite by global investors to long-term investment in South Africa.
Sinopec, meanwhile, has reiterated its view that South Africa is a critically important investment destination. It noted that its undertakings are designed to ensure that the transaction will generate significant public interest benefit for the country.
"Sinopec believes that South Africa's established market, infrastructure facilities, legal environment, human resources, as well as its strategic role on the continent, will provide a strong platform for the implementation of Sinopec's globalisation strategy.
"Sinopec will use these favourable factors together with its competitive advantage in the energy industry, to achieve an optimal balance of economic growth and sustainable development for Sinopec and South Afirca," spokesperson Lu Dapeng said.
If the Sinopec transaction is approved and implemented, it will be the single largest acquisition by a Chinese firm of control of a South Africa-based company.
The oil giant expects South Africa's Competition Tribunal to set down a date for a hearing to consider the transaction shortly.