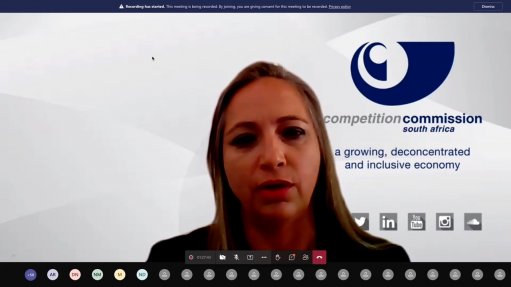 Candice Slump
The Covid-19 pandemic has led to a spike in price gouging and complaints from customers, and the Competition Commission of South Africa had to, and continues to, focus efforts on mitigating this situation, learning several lessons from this.
This was indicated during a webinar hosted by the commission on September 10.
Following the announcement of the national lockdown in March 2020, South Africa saw unprecedented spikes in demand for hygiene and healthcare products needed to prevent the spread of the virus.
Consumers also started panic-buying and stockpiling essential foodstuffs. This provided conditions for price gouging by suppliers and retailers of these products.
Competition Commission advocacy divisional manager Khanyisa Qobo said the commission received a considerable number of complaints in March 2020 about price gouging, owing to the pandemic.
Therefore, it had to respond urgently and change its operations to do so. The commission requested an extension on all cases reported prior to the lockdown that were not related to Covid-19 or price gouging.
It also set up an SMS service to capture complaints and information needed to enable investigators to follow up, indicated Qobo.
She noted that the commission collapsed all of its divisions and formed one megateam related to running all of these cases, bringing in all key professionals to one team, with staff working six days a week and managers also working on Sundays, to manage the workload.
The commission also liaised with the National Consumer Commission on a weekly basis, and joined operations in some areas to assist the public in avoiding duplication on certain complaints.
Qobo said the commission also had to alter its investigation, prosecution and settlement practices.
It had to develop practice notes so that its handling of price gouging during the pandemic would align with the Competition Act and other regulations.
Moreover, these matters had to be expedited, as they required a faster turnaround time than normal complaints, owing to the sensitivity and urgency of the matters.
Qobo said the commission successfully prosecuted and settled many of the cases. However, she noted that the bulk of complaints received that were not relevant to competition at all.
Moreover, in other cases, complaints were not related to the list of items named in price gouging regulations published. One example of this was muffin mix, she indicated, with many people baking during the lockdown and complaining about how expensive this was.
Qobo said there were also a number of important cases that were not related to price gouging, but which the commission felt were priority sectors, for example, high shipping costs. Therefore, it did consider and investigate such cases under the regular excessive pricing framework.
She also mentioned that some price gouging complaints would be referred to the National Consumer Commission.
Others, upon analysis, were found not to contravene the price gouging regulations. Qobo explained that, when retailers were engaged in these practices, it was found that these products had been discounted prior to the pandemic, and the promotion ending had coincided with the lockdown, which was misinterpreted by consumers as a price hike.
Qobo emphasised that the commission also worked extensively with retailers, and had several meetings with CEOs of major ones, to engage them to institute pricing discipline, to stem the tide from the source.
She also noted that it issued warnings, along with media assistance, to help in disciplining pricing practices at a retail level.
Qobo indicated that there had been three waves of price hikes, with the first being in March 2020 when lockdown was initially announced, with price hikes matched by a high level of complaints.
The second was in January this year, where the commission mostly received complaints related to garlic and ginger, during the January and February period.
Qobo said an investigation of the entire value chain on this revealed that there were supply/demand issues, which affected pricing, and in many of the cases, the price increase was not necessarily price gouging.
The next wave was more recently, in July, with a high volume of complaints of price hikes following the riots. Qobo said the commission received considerable complaints from communities that were directly affected, as there were long queues for basic essential products, and these were being rationed.
While investigations did reveal a handful of opportunistic retailers exploiting the situation, Qobo said that, by and large, price increases were the result of inflationary pressures that related to the macroeconomic environment.
She also mentioned complaints on the commission's books related to public procurement.
While this does not relate to price gouging, Qobo said it was working closely with authorities on these cases, most of which are ongoing investigations.