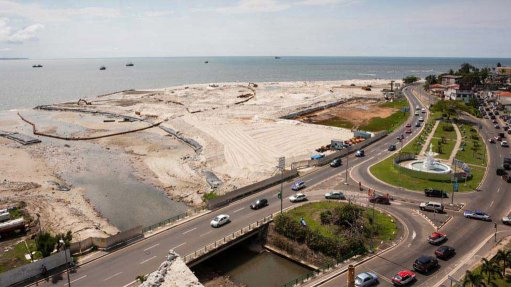 INFRASTRUCTURE DEVELOPMENT Construction of infrastructure across Gabon will continue under Bechtel supervision
Global engineering, project management and construction company Bechtel has extended its partnership with Gabon, which it has been working with since 2010 to create and implement a $25-billion national infrastructure plan.
Together, they have established a national infrastructure agency to deliver 100 projects spanning transportation, housing, education, medical facilities, water and waste management. Achievements so far include completion of more than 800 homes, 600 classrooms, 600 km of roads and Gabon's first community wastewater treatment plant.
"We're excited to continue our work to deliver infrastructure for the people of Gabon and to support the implementation of the country's vision for economic growth. This will include upskilling local workforces to manage major infrastructure projects in the future, building new facilities and improving local services, while sustainably managing the country's resources and biodiversity," says Bechtel Europe and Africa infrastructure MD Ailie MacAdam.
The Bechtel-established public-works agency l'Agence Nationale des Grands Travaux d'Infrastructures (Angiti) is staffed by a combination of Gabonese and Bechtel staff, with more than 80% of the team hired locally. Bechtel's role is to provide planning services, technical skills and project management expertise to the agency.
The Angiti's current priorities include delivering more than 1 200 km of roads, renovating an airport, upgrading medical facilities, building two new 20 000 seat stadiums and upgrading two existing stadiums to host the 2017 Africa Cup of Nations football tournament.
In addition to delivering projects to support the master plan, Angiti's long-term ambition is to enhance the Gabonese skills base for project management; construction; engineering; project controls; sustainability; health, safety and environment; and contracts, enabling the country's future infrastructure projects to be managed without Bechtel leadership.
Last month, Bechtel announced that it had received the 2016 Large Business of the Year Award from the Greater Reston Chamber of Commerce. Awards for Chamber Excellence were given to Bechtel and nine other winners at the chamber's yearly meeting.
"We take an active role in the communities in which we live and work. This is how we have worked throughout our 118-year history," says Bechtel global corporate affairs head Charlene Wheeless.
Bechtel relocated the company's corporate headquarters to Reston, in the US, in 2012. "We immediately set out to become a part of the fabric of this community, and we are delighted our involvement has been recognised by a leading business organisation in Northern Virginia."
Bechtel Greater Reston Chamber of Commerce president and CEO Mark Ingrao explains that it was selected as the Large Business of the Year by demonstrating excellence, industry innovation and chamber support over the past year.
Earlier this year, Bechtel received the 2016 Best of Reston Community Service Corporate Business Leader Award, which recognised the company and its nearly 1 000 Reston-based employees for making a difference in the community.
Bechtel's employee volunteers have been involved with Reston area schools, participated in the Reston Chamber's "Ethics Day" programme for high school seniors, and supported local nonprofit, community-based human services organisations.