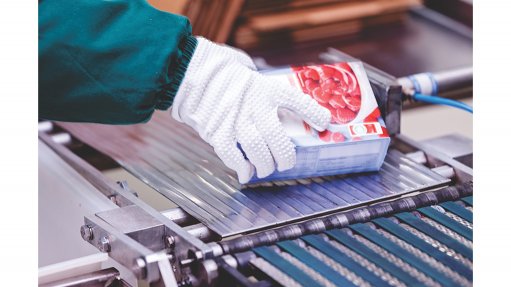 RAISING STANDARDS BMG works closely with the food and beverage sector to raise hygiene standards throughout the food and logistics chain
Engineering solutions specialist BMG provides critical engineering support to ensure safe and efficient food and beverage production and handling during the Covid-19 pandemic, says BMG group product and sales manager Mark Barbour.
BMG's solutions for the sector extend from processing, where raw ingredients are transformed, to packaging, where products are enclosed and protected for safe distribution.
"BMG remains committed to making sure the industry can continue operating as safely and efficiently as possible during this challenging time. It is critical – while we are all vulnerable – that extra care is taken by companies to maintain pristine hygiene standards during food and beverage manufacture, storage, packaging and transportation."
He adds that – apart from the supply of necessary engineering consumables and components – industry requires ongoing maintenance and refurbishment services, to ensure efficient productivity, particularly as lockdown levels start to shift towards Level 1.
This is why the company is currently working closely with its customers in all sectors, including the food and beverage industry, to ensure that each plant is well prepared for optimum productivity, says Barbour.
BMG's engineering solution services help its customers deliver on food safety and environmental and energy efficient initiatives, through the supply and support of components for light materials handling; belting products; gearboxes; motors and variable speed drives; bearings; seals and gaskets; power transmission components; valves; tools and equipment as well as fasteners, food-grade lubricants, and maintenance chemicals.
"In Addition, BMG – through its 'Boer Slim'/Smart Farming initiative – offers local farmers sustainability solutions that focus on effective food production, to ensure there are adequate supplies of fresh foods for an anxious and vulnerable population, during the Covid-19 pandemic."
He notes that this agricultural programme – which involves assisting farmers with the correct use of quality-branded equipment and appreciating the importance of investing in advanced technologies – has never been more important.
"Our people rely on the dependable supply of fresh food, which our farmers are under enormous pressure to keep producing."
Meanwhile, Barbour notes that a foundation of BMG's service to the food and beverage sector is reliability engineering – starting with an assessment of a plant's operating processes and budgetary parameters. BMG's initial design concept is enhanced by technical expertise for product specification, custom-design capabilities for improved productivity, timeous delivery of components, installation and commissioning, as well as support and maintenance of equipment. BMG also offers extensive customer training.
"Through BMG's assistance with careful and appropriate Food and Drug Administration-compliant equipment, correct installation methods, and appropriate care of equipment, substantial savings can be made in reduced maintenance costs and minimal downtime."
He adds that apart from the supply of all components and accessories needed to maintain critical food and beverage processing and handling, BMG offers field services to customers in need of assistance.
These services include mobile breakdown, repair and maintenance support, which ensure production plants are up and running as quickly as possible following a breakdown.
Barbour notes that during the lockdown period, BMG's Fluid Technology Low-Pressure division has assisted with numerous breakdowns at bakeries, bottling plants, and food preparation facilities. These repair projects involved pneumatics, valves, filtration, lubricants and lubrication systems, as well as instrumentation and pumps.
According to BMG specialists, the introduction of a structured maintenance management programme, which can be implemented in-house, or partially outsourced to a professional organisation, is critical to maximising production efficiencies.
Meanwhile, companies can look at conditioning monitoring as another way to ensure that downtime is reduced while ensuring efficient production and substantial cost savings.
Conditioning monitoring identifies lubrication problems, misalignment, and vibration troubles and also helps in identifying the causes of the damage so that equipment can be fixed before further damage occurs.
He points out that the effects of fric- tion and the resulting wear of moving components in food and beverage production are significantly reduced by effective lubrication.
Barbour adds that although a general multipurpose grease is adequate in many applications, food processing machinery demands the careful choice of the correct food grade lubricant and lubricating system.
"Through a wide range of synthetic oils, lubricants and bespoke lubrication systems and the support of a technically competent team, food and beverage plants can achieve energy savings, minimise downtime, reduce maintenance requirements and achieve an extended service life of components."
He concludes that BMG's distribution centre in Droste Park, Johannesburg, is operational and fully-stocked during the lockdown period, to help and support customers around the country and into Africa.
"BMG has a comprehensive range of equipment and components comprises bearings, seals and gaskets; power transmission; hydraulics and pneumatics; fluid technology and filtration; drives, motors and controllers; materials handling; fasteners and tools to service Africa."