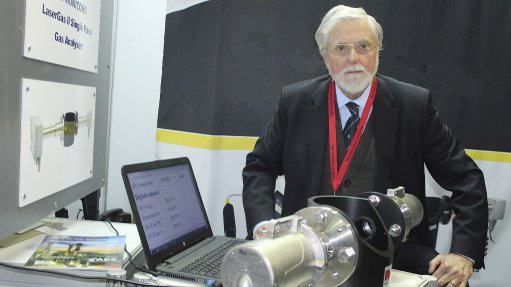 IAN FRASER South Africa needs to grasp the new wave of global automation more firmly
Mining, industrial and processing solutions provider RTS Africa Technologies is the exclusive supplier of laser-based online gas analysers and monitoring recording equipment from Norwegian company NEO Monitors, as well as, more recently, a range of both multiple channel and portable instruments, from US-based combustion analyser manufacturers IMR Environmental Equipment, which has not been marketed locally or in Africa previously.
This forms part of RTS Africa Technologies' – a division of the RTS Africa Group – offering to the gas analysis market in South Africa and pan-Africa, and it is now the agent for the range of products IMR supplies in the entire region.
The range includes combustion emission monitoring systems, which use probes to gather data on combustion emissions, explains RTS Africa Group MD Ian Fraser.
"If you have a combustion stack and need to collect data from it, you place these different probes along the combustion stack device, and integrate the probes with a data collection system. That will give you an overview of what is happening in the combustion," he explains.
Fraser points out that the IMR products, such as the portable instruments in the range that measure combustion emissions and gases, will "find their place in the African market".
"IMR decided there was a gap in the market for a reliable, and reasonably-priced, combustion emission monitoring system."
While this range is not as sophisticated as other similar monitoring systems, which use features such as lasers, it is a very cost-effective solution, says Fraser.
"There are a lot of applications for which instrumentation is very sophisticated, and you don't get sophistication without a reasonably high price tag. There are many applications where a more economic solution has an important place in the market," he states.
Monitoring systems that deal with high-temperature and -pressure applications will benefit from using a laser, which is not affected by these factors. However, "one must be careful when using probes, as one has to ensure that the probes can handle all the various critical conditions such as temperature and pressure", Fraser explains.
This is where non-intrusive laser-based analysers can become relevant.
As exclusive agents for this range of products in Africa, he notes the potential for exporting these products to other African countries, which will further develop the company's existing sales and service coverage of the continent.
The significant presence of mining operations in Africa, and the development of process plants for those mining operations, will, subsequently, also provide an opportunity for RTS Africa to grow in the sector.
IMR has received an order for these combustion systems from a company in the Copperbelt region, in Zambia.
Fraser emphasises the increase in environmental awareness locally and in Africa, particularly with regard to carbon and other emissions from combustion processes, and how these products would be appropriate for that market.
He explains that the amount of oxygen in a combustion process is a significant factor when determining the efficiency of a combustion system.
"An instrument such as this that measures oxygen in a combustion stack will give you a pretty good idea of how efficient your combustion is," states Fraser.
Providing an example, Fraser claims that having in excess of 4% to 5% oxygen in a combustion system indicates an inefficient and incomplete combustion process, which results in potentially harmful emissions being released, without achieving the initial benefits of the combustion process.
Companies would be able to use instruments such as these to control and optimise their combustion processes, resulting in less unnecessary, wasteful – and potentially also harmful – emissions being released.
Further, with a carbon tax having been implemented in South Africa last month – which will be levied on greenhouse gases from fuel combustion and industrial processes and emissions – Fraser emphasises the increased demand that will be created for products and systems, such as the ranges from IMR, and NEO Monitors.
Fraser reiterates that companies will be under pressure to reduce carbon emissions from their industrial processes, particularly if inefficient combustion systems are used, as they produce excessively harmful emissions.
RTS Africa is the exclusive and sole agent for companies such as turnkey solutions provider Procon Engineering (boiler tube leak detection systems), hydrogen analyser providers H2scan (hydrogen gas analysers), and laser-based gas analyser providers Neo Monitors (gas monitoring systems).
RTS Africa's long-standing relationships with these and other leading international principals – and their significant engineering experience – are beneficial when technical issues arise during installation or maintenance of the instrumentation systems.
"We are backed by our international principals, and that's really important. We're in direct contact with these companies all the time, and they give us complete and full technical backup as and when required."
Fraser highlights the importance of this, as it enables RTS Africa to provide more extensive support for technicians and engineers on site, subsequently also benefiting the client.
The presence of various gases in different manufacturing and processing plants, as well as the volatility of certain gases under certain conditions, which can create safety and environmental compliance concerns, means the accuracy of monitoring systems is paramount, Fraser emphasises.