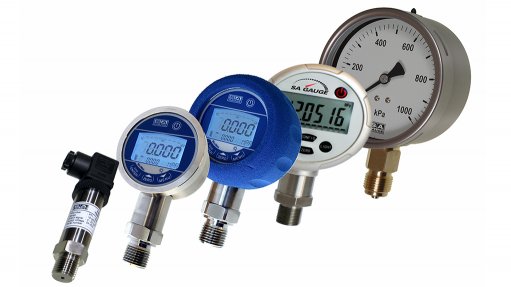 HANDLING THE PRESSURE Now able to manufacture locally, the company can now meet increased local demand for digital pressure gauges
Industrial pressure- and temperature-gauge manufacturer SA Gauge started to manufacture its own digital pressure gauges this year to ensure that it is not affected by import lead times and exchange rates.
In the past five years, the company has imported digital pressure gauges from Europe to sell locally. With the capability to manufacture locally, the company can now produce digital pressure gauges on demand.
"Previously, customers and end-users could wait for importers to import gauges for them. The Covid-19 lockdown period and regulations, however, have removed such a luxury, as imports and exports for the country have been disrupted," states SA Gauge MD Chris du Plessis.
Using local raw materials wherever possible, Du Plessis declares that SA Gauge is the only company in South Africa to manufacture these gauges locally.
SA Gauge also uses local printed circuit boards (PCBs) and keypads supplied by local manufacturers, with the PCB component assembly also done locally. All the other parts, except for the electronic parts, are manufactured in-house using local raw materials.
"We are manufacturing the popular 63 mm pressure gauges and we will now follow it up with the 100 mm variant in the next four months. We manufacture all pressure ranges, in accuracies of 0.5% and 0.25% in the 63 mm gauges."
Du Plessis adds that the 100-mm-diameter digital pressure gauge will also have a 0.1% and 0.05% accuracy option. The gauges are available in high- and low-alarm contact configuration standards, and also with an output of 4-20 mA.
He claims that, with a South African National Accreditation System- (SANAS-) accredited laboratory, SA Gauge has received requests from many other companies to calibrate products from these companies' brands.
"Working with many brands over time has resulted in SA Gauge acquiring sufficient experience and expertise to incorporate the best features and eliminate the shortcomings of other brands when we design our own," adds Du Plessis.
Further, he states that the company's locally manufactured digital pressure gauges are ideal to export – an important reason for SA Gauge's decision to enter this market. This is so because the digital pressure gauges are expensive by nature, particularly when compared to the cost of export shipping, which will not increase the total cost of each gauge significantly.
Du Plessis argues that the fees are, therefore, not a deterrent, as they can be absorbed into the higher selling price.
The company has, however, received increased demand for products such as digital pressure gauges from new customers locally. This demand has occurred as the imported products from other suppliers that these customers normally use are not always in stock and available off the shelf.
While the company has been able to meet demand, the lack of availability regarding certain raw materials – including stainless steel, particularly in round, hexagon and square bars – is a challenge, as these materials are not manufactured locally.
Consequently, SA Gauge is forced to acquire these materials at inflated prices from suppliers other than its preferred supplier, as it is currently the only supplier with stock. This also erodes profit margins on normal production items such as dial type mechanical pressure and temperature gauges, as well as diaphragm seal systems.
"We have a policy of quoting fixed prices from January until the following year, and we have been doing this for 28 years. It will go against everything we stand for to increase our prices because of increased input costs from local raw material suppliers, so we will do so only as a last resort."
SA Gauge imports high-quality forehead thermometers from China to supply them to its existing customer base, as the company have received significant demand for them, owing to the Covid-19 pandemic.
"Our thermometers sold well until inferior products flooded the market at less than half the price. This drove down demand and limited our sales to customers that demand quality thermometers, which come standard with a calibration certificate," explains Du Plessis.
However, he argues that imported and low-quality instruments have eventually worked in favour of local suppliers such as SA Gauge because customers would bring poor-quality thermometers to the company for calibration, owing to untrustworthy readings.
Many of these instruments could not, however, be calibrated within specification, owing to their poor quality. This emphasises to customers the importance of buying quality products, which can be supported with SANAS-approved laboratories such as SA Gauge's, and calibrated locally, adds Du Plessis.
"We have since contacted local bodies the National Laboratory Association, as well as SANAS, to make them aware of the shortcomings in standards applicable to medical thermometers in South Africa. They have initiated a technical committee after discussing our findings to investigate the improvement of measurement standards for medical infrared thermometers."
This has also resulted in several local laboratories, including SA Gauge's calibration laboratory, taking part in an inter-laboratory comparison to determine if these laboratories can work to such a standard.