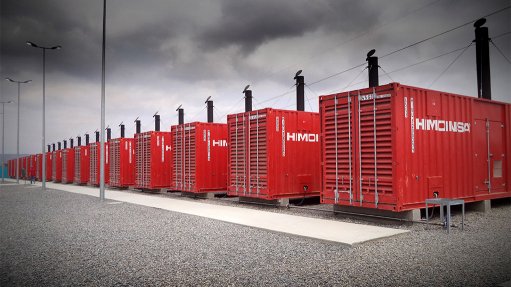 DUCKS IN A ROW If installed and maintained correctly, a genset can minimise operational costs on site
The global trend of moving towards decentralised embedded generation has encouraged power solutions manufacturer Himoinsa to work with its research and development (R&D) teams to enable its generator sets, or gensets, to feed excess power back into the grid.
Himoinsa has conducted R&D on this 'hybrid' technology for embedded generation and is considering ways of integrating its existing products with renewables, specifically in on- and off-grid applications.
Most recently developed by Himoinsa is the data centre continuous (DCC) rated range, which can provide 100% power within 10 seconds of receiving the command to start up. Himoinsa has implemented DCC technology in several data centres globally, including a 24 MW data centre for call-centre specialists Alibaba, in China.
Himoinsa has also installed gas generator sets with a high-power gas engine in the West Midlands, in the UK; the Stor project generates 18 MW of power to supplement the grid.
Himoinsa is working on delivering embedded generation as a constant to add to the South African grid.
"However, there have been one or two legislative issues with the initial concept, but with the correct communication, there can be a link to the grid and make embedded power generation work," Himoinsa MD Martin Foster tells Engineering News.
Legislation requires that, to integrate below 10 MW of energy to the grid, a licence from the National Energy Regulator of South Africa is required. Integrating additional energy above 10 MW requires approval from the Department of Energy.
Foster adds that Himoinsa works closely with original-equipment manufacturers (OEMs) to make the gensets being supplied to clients as energy efficient as possible. Through reduced fuel consumption and extended maintenance intervals, the company is able to offer a lower cost-of-energy production.
"We are also working on getting emissions as low as possible on the gensets we supply, working with the relevant OEMs, to work towards greener power generation," adds Foster.
Also offered by Himoinsa is the option to soundproof the gensets, whereby noise and thermic insulation is ensured by 144 kg/m3 high-density, 50-mm-thick volcanic rock wool, which is noncorrosive to metals. Decibel levels vary according to the size of the unit, but usually range between 60 dB(A) and 70 dB(A) at 7 m away.
Himoinsa sales and marketing head Lucy Bell says the company also has a silent plus range – mainly for events – which, in addition to complying with the Stage IIIA European emissions standards regulations, guarantees a noise level of about 60 dB(A) at a distance of 7 m. These units hold 100 mm of the rock wool.
Also Offered by Himoinsa
Testing the capacity of a generator under load is an essential part of the maintenance of a unit, particularly when the application is standby backup power and the unit is rarely used or used under a light load, says Bell.
In South Africa, many generators are not used often, except in instances of load-shedding. However, without routine maintenance, fuel deposits can build up in parts of the engine over time, which may lead to reduced output capacity. Load-bank testing will check if the unit can run at its full kilowatt rating.
"In certain situations, it is not desirable to test a unit under load during an actual scenario, as this impacts productivity output.
However, he points out that there are also compliancy requirements regarding the guaranteed availability of redundant power that must be factored into a maintenance plan.
Foster concludes that Himoinsa offers gensets ranging from 3 kVA to 3 500 kVA with its 200 kVA range being the most popular global offering. Additionally, Himoinsa offers its heavy range of gensets which are better suited to the mining sector and large industrial clients and can generate more than 800 kVA.