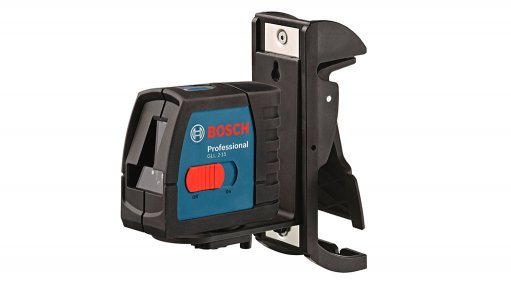 GLL 2-15 PROFESSIONAL CROSS LINE LASER Bosch Power Tools South Africa maintains that the cross line laser is ideal for levelling professionals with limited levelling experience
Power tools manufacturer Bosch Industrial Power Tools maintains that local industry professionals stand to benefit from the use of its newly launched GLL 2-15 Professional cross line laser.

Bosch Power Tools South Africa senior brand manager Juergen Lauer tells Engineering News that the tool was introduced to the local market this year, stating that it is part of the company's commitment to supplying world-class power tools in Africa and to keep abreast of the local industry's need for innovation and technological advancement.
He says the GLL 2-15 Professional cross line laser is versatile and flexible, making it the ideal levelling tool for professionals who have minimal experience using levelling instruments.
"The GLL 2-15 Professional cross line laser is easy to use and has a single button. It features two laser lines, a vertical laser and a horizontal laser, which can be individually switched on and off. The user has the option of using either the vertical or horizontal line alone, or using both lines as a cross," he explains.
In addition, the tool features a 635 mm class two laser, which is visible up to 15 m. It comes with an integrated tilt function, which allows for diagonal line projections. Lauer highlights that tasks that require working at an angle, such as fitting a staircase, the tool can be tilted, which slants the laser line at the same angle as the tool.
"When the tool is tilted, the laser line flashes to indicate that it is outside of the automatic levelling mode. When the user presses the button on top of the tool, it projects the laser continuously. The laser line also flashes on horizontal or vertical applications if the laser is not aligned. The out-of-level function guarantees error-free alignment," he elaborates.
The GLL 2-15 line laser has a levelling accuracy of about 0.3 mm/m. When projecting a vertical or horizontal line, the laser automatically levels itself within four seconds or activates the 'out-of-level' function if the laser is out of alignment, Lauer explains.
The tool also boasts IP5X-rated dust and splash protection, which Lauer says makes it suitable for a variety of working environments.
African Market
Lauer tells Engineering News that when providing tools to the African market, Bosch Power Tools South Africa has noted that many companies' operations on the continent prioritise the need to ensure employee and operation safety, which sees the company prioritise the provision of tools that meet safety requirements.
He states that the company has several customer feedback initiatives that ensure that the relevant products are sourced to help solve clients' challenges.
"User experience is key to product development, so our product managers and developers are actively engaged with users to see what their requirements and challenges are on site. Supplying innovative products remains a priority to the company, be it tools with innovative battery solutions or products with safety mechanisms that prevent dangerous accidents," Lauer explains.

He concludes that most of the products that the company imports have been developed at Bosch's manufacturing plants in Germany and in other European markets which he says subscribe to high safety and quality standards.