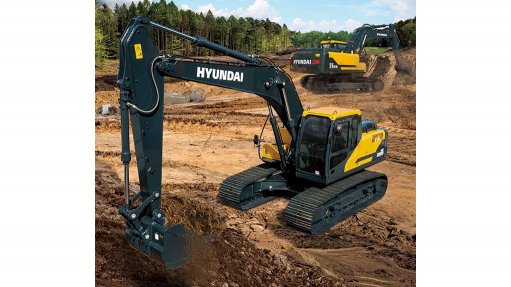 THE RIGHT FIT HPE Africa believes that the series will be well suited to most small- to medium-size construction, repair and demolition projects carried out by municipalities
Construction equipment supplier HPE Africa has launched its HX Series excavators, which will be available in April nationwide.
HPE Africa believes that the series will be well suited to most medium-to large sized construction, civil engineering and demolition projects carried out by municipalities.
The company works closely with municipalities by supplying construction equipment and offers after-sale services.
HPE Africa MD Ross Collard notes that the HX220S 20 t excavators that form part of the HX Series will complement the company's Hyundai equipment range that consists of skid steers, backhoe loaders and excavators, which are mostly used in municipal projects.
"Typically, in municipalities, excavators are used to dig up and move large amounts of earth or materials to create holes and dig trenches and foundations.
Collard adds that the true value of the HX Series lies in its durability and high productivity. The robust upper and lower frame structure can endure external shocks and heavy workloads.
He adds that, with the three-layer stacked-up cooling module improving air inflow, the HX Series provides excellent cooling performance by increasing heat dissipation.
The durable cooling module passed stringent tests, such as demonstrating the highest productivity in tough working environments.
The industrial personal computer of the HX Series controls the excavator's power in different work environments. In excavation mode, the pump flow can easily be controlled using the lever, consequently reducing fuel consumption.
Further, the HX Series excavators have an upgraded hydraulic system, resulting in reduced fuel consumption and improved controllability.
The excavators are easy to maintain and have an easy access air-conditioner outer filter with accurate temperature sensing, while heat-resistant and durable high-grade hoses result in increased hose life cycles.
"The excavators have a reinforced bucket and bucket linkage, as well as precise swing control, with reduced shock and vibration through the new cab mounting system. The excavators also have an operating weight of 21 260 kg, a gross power rating of 110 kW at 2 000 rpm and a bucket capacity of 1.2 m³," Collard explains.
The HPE Africa team assists decision-makers with municipal projects in terms of correct machine selection to ensure efficient capital expenditure, optimise productivity, reduce downtime and enhance safety onsite, Collard concludes.