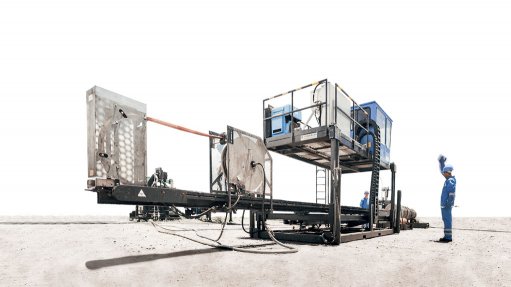 CLEANING SAFELY During a recent plant shutdown, Averda completed more than 59 640 injury-free work hours in 14 days, cleaned 24 578 km of tubes and moved 180 000 t of product
Over the past decade, global waste management company Averda's focus regarding industrial cleaning has been to develop and increase the use of hands-free technologies, making it safer for operators to work and allowing for more complex tasks to be completed.
Subsequently, the risk of on-site injuries is reduced and, therefore, productivity is increased.
Averda South Africa industrial cleaning GM Lourens de Beer says there has also been a big focus on cleaning methodology, including an analysis of previous cleaning applications, where improvements can be made and what precleaning treatments can be applied to increase the efficiency of the final cleaning application.
"We are also working to minimise environmental impact. Together with our clients, we focus on reduced water consumption through recycling and seeking alternatives to landfill, where possible, for any waste resulting from our cleaning applications."
Technology Offering
"As with many industries, innovation with industrial cleaning involves increased automation," notes De Beer.
He adds that industrial cleaning auto- mation entails improved safety with hands-free technology and access to better data, which enables companies, such as Averda, to analyse the cleaning process and continuously improve.
Averda makes recommendations for pretreatments, which not only makes the cleaning process more effective but also saves time and costs.
De Beer highlights that the concept of zero waste to landfill is also an area receiving increased attention by industry companies.
"We aim to minimise waste to landfill for clients through processes such as recycling; however, this becomes more technical with hazardous waste.
Moreover, he mentions that Averda offers hands-free cleaning technology as well as hydrodemolition technology, which is a cost-effective, safe alternative to traditional methods of removing and scarifying concrete.
De Beer notes that hydrodemolition is also more effective and precise than jackhammering for concrete removal on bridges, garages, dams and roadways.
Hydrodemolition does not negatively affect existing concrete or introduce fracturing into the structure, which allows for more complex projects to be executed. It cleans and decontaminates embedded metal elements and rebar without causing damage, while removing up to 305 mm of material based on pressure, flow and grade of concrete.

Facility Efficiency
Averda's hazardous waste management facility, Vlakfontein, in the Vaal Triangle, Gauteng, cost R250-million to develop and has been operating since May last year. It has an expected life span of 30 years and an overall capacity of 6.5-million square metres.
"It is the first plant of its kind in South Africa to comply with the Waste Classification and Management regulations of the Department of Environmental Affairs, which came into effect in August 2013," says De Beer, adding that the facility is using Class A containment barriers – essential for compliance to health and safety standards.
The barriers consist of several layers of compacted clay and two high-density polyethylene geomembrane liners with built-in leakage detection and drainage layers.
De Beer avers that the effectiveness of the facility is a result of its overall design and the barrier technology that prevents hazardous materials from seeping into the soil, thereby helping to preserve the environment. The barrier also drains and captures hazardous liquids produced by waste materials, known as leachate.
Vlakfontein can comfortably accept up to 20 000 t/m of waste, with De Beer pointing out that Averda is preparing detailed designs for the construction of a second cell.

Averda won two Diamond Arrow awards at consultancy and research company PMR Africa's Excellence Awards event in September.
The company was voted best in class for the hazardous waste management and industrial cleaning categories.
The Diamond Arrow is the highest award in both categories and is based on attributes, such as compliance, competency and reliable staff, value for money, environment-friendly practices and broad-based black economic empowerment.
De Beer attributes the company's success to hard work and employees being dedicated, motivated and well trained.
For example, during a recent plant shutdown, Averda completed more than 59 640 injury-free work hours in 14 days, during which the company cleaned 24 578 km of tubes and moved 180 000 t of product.
Further, Averda will attend the Waste Management and Recycling conference in Boksburg, Gauteng, on November 29 and 30.
"Since Averda specialises in numerous environmental and cleaning services, we like to use these events to expose our clients and potential clients to the multifaceted sides of our business," avers De Beer.
The company will also attend the Institute of Waste Management of Southern Africa's WasteCon conference and exhibition in October 2018.