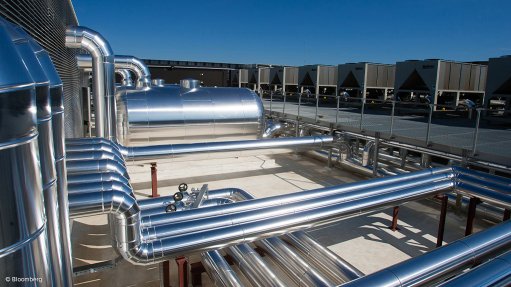 CHILLER SYSTEM Central plant optimisation software can constantly and consistently maximise the efficiency and performance of an entire central chilled water plant
Photo by: Bloomberg
Central plant optimisation (CPO) is at this point relatively new to the South African market and not widely accepted, but multinational diversified technology and industrial leader Johnson Controls, together with its specialisation partner multidiscipline solutions provider ITD Group, is driving the implementation of CPO in the local market.
"One of the main challenges the company faces is convincing clients that a CPO solution and a building management system (BMS) are different," Johnson Controls engineering manager Russell Hattingh tells Engineering News.
Organisations often assume they perform the same function and that having both is an unnecessary duplication.
"While a BMS can apply general rules, such as scheduling outputs according to occupancy levels, it is CPO software with its ability to constantly and consistently maximise the efficiency and performance of an entire [central chilled water] plant, monitor and control all plant components, as well as unique variables, that is delivering true breakthrough benefits," he explains.
A CPO solution considers all the equipment in the plant and is able to constantly and consistently maximise the efficiency and performance of the entire plant. Hattingh explains that a CPO solution takes into consideration every component, including the chillers, pumps and cooling towers. In addition, it factors in primary, secondary and tertiary circuit components in large installations, aligning them with demand and site priorities and optimising performance and outputs.
CPO software takes multiple variables into consideration, pinging plant components for information but also tapping into the BMS and Big Data where relevant. Variables may include the combination of equipment on the site and its configuration, equipment conditions and availability, occupancy levels, ambient environment, operating conditions and the weather forecast.
CPO also considers configured site priorities – some sites, such as pharmaceuticals manufacture or information, and communications technology hosting facilities, may require always-on environmental control, others will shut plant equipment down when the building empties.
"Because there is now so much information available and the cost of getting it wrong is so high, manual central plant management, which is exposed to human error, has become almost irresponsible. Consider the yearly cost of running a plant at even 30% higher capacity than is necessary, or the cost of shutting chillers down even just two hours later than is needed every day," Hattingh points out.
Meanwhile, South African organisations must lower energy consumption to address the country's challenges of insufficient energy capacity and rising costs. "These challenges have put energy efficiency at the top of people's minds, and energy management is becoming more and more relevant," he stresses. Many organisations are taking the common-sense approach of replacing old plant equipment and systems with high-efficiency systems, such as variable-speed drives (VSDs) and BMS technology.
However, he notes that CPO will become critical to maximise the operational efficiency of chiller plants and lower energy usage and costs.
The approach a company takes will depend on the company's expected payback, but it is important that the company understands the solution that will be provided and the benefits thereof, he advances. Johnson Controls can run an analysis for CPO on a client's system and if a potential client can provide the company with enough data of their site, Johnson Controls can provide them with the potential savings that can be achieved by implementing a CPO solution.
One of the flagship sites where ITD Group implemented a Johnson Control's CPO solution is a large pharmaceuticals company in South Africa. Total payback of the cost of implementing this CPO solution, including additional instrumentation and VSDs, was one year. With ongoing tuning and optimisation CPO will continue to offer year-on-year additional energy savings of more than R800 000 on a 3.6 MW cooling plant. The system is monitored and optimised remotely from ITD Group's premises to ensure that peak performance is maintained in a critical environment with no tolerance for disruption to production up time.
"We would like to see CPO solutions installed and implemented more and a focus for us going forward is ensuring that the market is aware of CPO as a viable and good energy efficiency solution that will really save organisations money," Hattingh concludes.