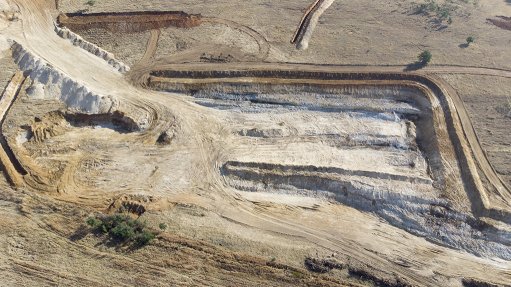 AERIAL VIEW While exploration does present multiple financial and economic benefits, the economic viability has to be assessed over a long-term period
Mining investment company Menar, through its subsidiaries, has committed to ensuring its continued growth through several investment and development projects.
"Exploration allows for the development of new projects and the establishment of new mines. Menar has R7-billion worth of new investment in the pipeline. This demonstrates our commitment to undertaking exploration work and developing new mining projects," says Menar projects head Gerhard Cronje.
The company believes that exploration is fundamental in ensuring the long-term sustainability and growth of the local industry.
"South Africa has an abundance of mineral resources that can be developed into long-term megaprojects, which would attract investment, create thousands of jobs, generate wealth for the country through taxes and mineral royalties, as well as support upstream and downstream sectors, including equipment and service providers."
While exploration does present multiple financial and economic benefits to the industry, the economic viability of any project has to be assessed over a long-term period.
The financial model of a project is based on the economic data of the project, including indicators such as the prices of minerals, operating expenses and capital expenditure and projected income data.
The model also highlights the key indicators for investment decisions. Ultimately, the data points presented by the financial model are based on projection and are not definitive. This, therefore, influences the economic viability of an exploration project.
"We develop technical-economic models to understand the value of the asset and optimise planning throughout the mining life cycle, from scoping level assessments to feasibility phases and during the due diligence process. This assists us in making financially sound decisions in terms of our exploration projects," explains Cronje.
He explains that Menar's investment and exploration strategies are based on three global megatrends: the energy transition to decarbonised renewable-energy sources, government economic stimulus packages and the construction of infrastructure, and electric vehicles.
Project Development
Menar has 11 local exploration projects in the pipeline. They have all passed the definitive feasibility study stage, with a life-of-mine (LoM) range of between three-and-a-half and 34 years.
The Gugulethu project, previously known as De Wittekrans, located south of Hendrina, in Mpumalanga, and the Bekezela project, near Springs, in Gauteng, are expected to begin production next year. The former will yield run-of-mine (RoM) production of 300 000 t/m and the latter RoM of 600 000 t/m.
The Springfield project in Vereeniging, Gauteng, and the Aasvoëlkrans underground project near Utrecht, in KwaZulu-Natal, are expected to start production in 2023.
Meanwhile, Zululand Anthracite Colliery (ZAC) is developing the Mngeni shaft which will extend ZAC's LoM. Mngeni is located about 27 km north-east of Ulundi and has a LoM of about 2.5 years based on an RoM production of about 25 000 t/m.
ZAC plans to start operations at Mngeni before the end of 2021; the development of the Riversdale Anthracite Colliery project in Vryheid, KwaZulu-Natal, will start in 2023; with Belgarthen A, a development outside Piet Retief, in Mpumalanga, beginning development in 2022. Kusipongo's Twyfelhoek started development last month.
Cronje states that one of the primary challenges of starting these exploration projects was opposition from anti-mining groups, which lobby government authorities to oppose the granting of licences. This caused delays in project developments but were, nonetheless, overcome.
"Additionally, mine design plans sometimes need to be altered, which can cause delays. However, our project team has the skills set to ensure that the plans can be amended swiftly according to the operational requirements of the mine."
While return on investment is expected to vary from project to project and can be released only when the project has reached steady-state production, Cronje tells Mining Weekly that the Bekezela project will be the company's flagship project.
"The Bekezala project will be an opencast mine with an LoM of about 19 years, excluding the construction phase."