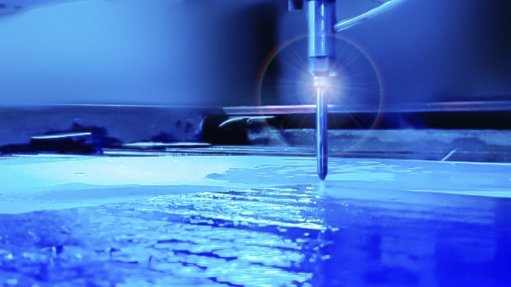 WATER-JET CUTTING When using precision water-jet cutting and profiling with aluminium, there are different steps in the process of implementation for different projects
Water-jet cutting company MAXJET GLOBAL highlights why aluminium is becoming one of the main materials used in the aerospace, automotive and signage industry and the steps taken to process aluminium through water-jet cutting.
"Working within the automotive, aerospace and the signage industry, it has become apparent that parts and components for these industries are being redesigned, using aluminium," says MAXJET director Preeshan Naidoo.
Naidoo explains that aluminium is featuring in these industries because of its low weight, allowing designs to be further enhanced to reduce weight and featuring low corrosion to rust compared with high-carbon materials.
Moreover, the lighter weight has proven to save energy for these industries because when energy is required to exert motion, the energy required is greater when the object is heavier, he adds.
Water-Jet Cutting Aluminium
When using precision water-jet cutting and profiling with aluminium, there are different steps in the process of implementation for different projects, says Naidoo.
The quality of aluminium and the computerised numerical control machines need to be considered.
Surface quality of parts produced by MAXJET depends on the application of the parts and components, owing to the equipment's operating with different "quality selections", consequently changing the speeds of the cut, he explains.
"The faster the cut, the rougher the quality, hence the parts or equipment being cut are cheaper than higher-quality cuts where the cutting time is slower."
As a result, a decision must be made regarding the type of cut required for a specific project and sector: "Some parts have more of a visual importance rather than a functional one, while other components may require further processing," he explains.
Therefore, the type of components used and their functionality must be considered when the estimations are done.
Naidoo says the quality of a cut can be converted to a roughness chart, where Quality 1 is the fastest and cheapest cut. He explains that this is equivalent to an N8 or a N7 rating surface finish, while Quality 5 has an N3 surface finish.
The quality of a cut also ultimately needs to be considered when determining the function and final production of a product for a sector.
Much emphasis is also placed on the process and how it assistsin minimising waste and better allows for post processing. This is achieved because, once processed by water-jet cutting, the satin finish better allows for machining, polishing or welding as opposed to other processes, explains Naidoo.
Another consideration in the process is determining the fine 'jet' and tolerance levels.
"Our process of using fine 'jet' is 1 mm, which allows for parts to be nested closely to minimise the wasting of materials, while the tolerances levels depends on the quality of cut and thickness of materials. The tolerance levels can achieve between 0.2 mm and 0.4 mm, and must be determined based on the type of project and process required," explains Naidoo.
Taking this into consideration "drastically reduces post processing", he adds.
"Clients have experienced huge time savings on post processing and material waste, especially with the current shortages of material supply which have been exacerbated by the Covid-19 pandemic."
Naidoo says this is evident in the projects that MAXJET has been involved in, such as the development of automotive components for the local motor racing scene, components manufactured for local companies that manufacture and assemble gyrocopters, as well as MAXJET's ongoing production of signage for various companies.
Naidoo adds that aluminium is also advantageous because of its aesthetic look and appeal, with its also being able to be powder-coated or hydro-dipped in various colours and shades.
Advancements in Process
MAXJET prides itself as a specialist in waterjet profiling and design and service and Naidoo highlights the technological advancements that have been made in the process.
"Using new state-of-the-art equipment from the US, various components of the machinery have been upgraded. These include updated computer hardware and software programming, which according to Naidoo uses the latest generation chipsets, allowing for faster processing.
Naidoo concludes by emphasising that using precision water jet cutting and profiling is unique, and with its years of experience, the MAXJET team has mastered the various parameters required for the processing of most flat sheet materials, including aluminium.