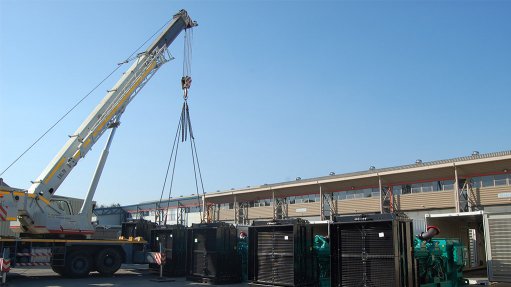 POSITIVE GROWTH TRAJECTORY Creating awareness of companies' capabilities will lead to positive results in trade growth
South African electrical engineering company Power Plant Electrical Technologies (PPE Technologies) will exhibit for the first time at the African Energy Indaba (AEI) this year.
"Our main objective is to network with influencers in the African energy sector and create awareness of our company, as well as of the products and services that we have to offer this sector," says PPE Technologies media and marketing manager Bradley Bense.
He further notes that the company aims to capitalise on the influence that the South African Electrotechnical Export Council (SAEEC) has at the event, while exposing PPE Technologies' capabilities to the 20 African delegates – representing several African countries – that the council has invited.
Owing to the company's offering in electric engineering services, manufacturing, sales, project execution, installations and commissioning, Bense says the Indaba is an "invaluable platform for the company to share its expertise and learn new skills while developing mutually beneficial relationships within the industry".

In addition, he notes that creating awareness of the company's capabilities will achieve positive results in trade growth between South Africa and its African counterparts.
"We are committed to providing solutions that will increase clients' productivity and processes. We believe that Africa's economic development relies heavily on efficient energy solutions, and we believe we can play a role in fostering that development."
Meanwhile, Bense explains that colonisation and debts incurred by countries created less frequent localised trade in the past.
He notes that many existing utility developments and mining operations in Africa were designed and built by foreign companies, thereby making knowledge and maintenance and upgrade skills difficult to access in Africa.
"These skills do exist and have been developed in Africa; however, they are not always readily available, owing to the limited size of the skills pool. Renewable solutions, equipment manufacturing, plant design and construction are all services that very skilled companies in Africa can offer."
However, he notes that secure funding and correct procurement systems are stumbling blocks, as these are not always available.
"I do believe that the stigma of African companies being unable to complete such projects is being challenged and changed. More projects awarded locally and successfully completed will influence foreign investors and international engineering firms' viewpoints," avers Bense.
Some benefits of using local companies instead of outsourcing internationally include a continuity of support after project completion, increasing trade relations between African countries, minimal disruptions because of similar time zones, as well as more cost-effective procurement of equipment and resources.
"Skills that are saturated and readily available overseas, as well as very competitive manufacturing environments and pricing, make the case for buying locally produced equipment very difficult," he notes.
Project managers regard cost and lead times to the company as key elements, rather than a broader compelling argument that investing and spending locally will ultimately improve the economy, create jobs and result in skills and socioeconomic development, says Bense.
This falls in line with the SAEEC's – in partnership with the Department of Trade and Industry (DTI) – mission to facilitate, support and increase the development and growth of exports in the electrotechnical sector through cooperation and expansion of the base of continentwide exporters. The partnerships being built by the SAEEC will improve not only knowledge and skills transfer but also economic growth, Bense notes.
He says, with South Africa as the economic hub of the Southern African Development Community, ensuring that companies that are based here enter pivotal positions in the continent is of "significant importance". This is required to assist companies and African governments in improving economic development in communities and societies in the region, he adds.
Should the SAEEC and DTI's missions be successful, Bense notes that this will lead to a definite and visible growth in public–private partnerships, increased trust and confidence, as well as increased foreign investment in development projects that will, in turn, increase economic growth and socioeconomic development.
Owing to these missions, he mentions that PPE Technologies' role as a South African company is to promote and grow exports from South Africa through the development and stimulation of partnerships, thereby contributing towards South Africa's 2030 National Development Plan.
The AEI will be held at the Sandton Convention Centre on February 20 and 21.