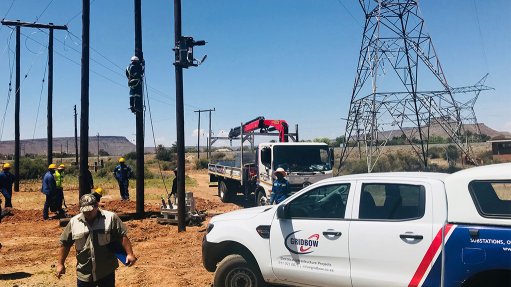 WORKING PROUD IN NORTHERN CAPE Gridbow team on site constructing a 7 km 22 kV line in Noupoort
Owing to its ability to adhere to State-owned power utility Eskom's stringent electrification infrastructure requirements, electrical solutions and engineering provider Gridbow has expanded its services into other African countries.
"Contrary to popular belief, Eskom has very stringent rules with regard to engineering and quality in electrification and distribution that include the submission of correct documentation, complying with legislation about upholding environmental standards and maintaining heritage sites. "We have been able to produce projects that meet requirements without fail," says Gridbow Engineers and Technical Services COO Farai Chabata.
Owing to Gridbow's skills and reliability, it is the main contractor working in African countries to provide and distribute electricity to the rest of Africa.
"We have done and completed work in Benin and Zimbabwe and we will soon start work in Rwanda where we are building overhead lines for a community being electrified by a solar plant," he notes. Gridbow is also currently busy in Zambia on a United Nations Development Programme solar project across four sites and is also doing civil, electrical and meter reading work in Swaziland.
Chabata further suggests that, owing to the level of expertise that South African companies possess, companies should offer their services to African countries that do not have adequate skills to foster a particular project.
"For instance, China goes into different countries, works on an engineering, procurement and construction project from beginning to end and the government of the country it supplied these services pays them for the work carried out. South Africa is in the same position where it should be considering China's model. "For example, Zimbabwe plans to implement a free world trade and the South African government can fund projects in Zimbabwe and take South African contractors to do the work."
He further highlights that there is great potential for the above mentioned to take place in other African countries. This, he believes, will also assist South Africa in elevating the unemployment rate. "If the country [South Africa] goes into an agreement with other African countries, skilled and unemployed personnel can be sent to work on projects in Africa.
"The company has resources, equipment and in-house facilities to design and deliver on all aspects of powerline work and substations, from distribution to transmission voltages of up to 400 kV.
"Our complete solution for transmission and distribution-voltage structures extends to wood pole, steel monopole and concrete monopole structures," he notes.
Chabata mentions that, in South Africa, the company has worked on the Amahlubi, Mthambalala, Idutywa, Willowvale, Khotana and Cebe electrification projects, in the Eastern Cape; on the Buxedene, Ntsimbikazi, Amakhuze and Gobaphahla electrification projects, in KwaZulu-Natal; on the Thandalani project, in the Free State; on the Khutsong project, in Gauteng; and the Laingville project, in the Western Cape.
In the Northen Cape, Gridbow is busy with construction of a 35 km 22 kV line called Bendel Feeder. This feeder is a three-phase line using hare conductor running from Eldoret substation to Gadiboe village. The line is a split of the feeder supplying six villages with a load of about 6 000 customers.
Safety
Gridbow CEO and cofounder Lebo Mathebula reiterates that the industry should have a stronger emphasis on safety, as negligence can cost lives. When there is a loss of life, all work at the sites where the project is taking place needs to stop.
She suggests that inductions, medical examinations, wearing the correct uniform and random breathaliser tests are just some of the safety measures Gridbow implements on a daily basis. The company also has a system which allows it to check the proper functioning of equipment on site.