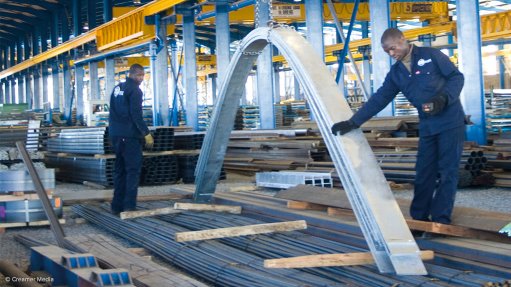 POSITIVE RESPONSEBSi Steel's range of carbon-steel products include sections, sheet and plate, tubing, cold-formed sections, roofing and selected mining products
In the last two years JSE-listed steel distributor BSi Steel has opened a total of six branches in Gauteng and the North-West province, and has enjoyed strong support from its respective markets to date, BSi Steel South African stockists division CE Ross Teichmann tells Engineering News.
"By locating our branches closer to our customers and using the company's distribution centre at Klipriver, in Gauteng, more effectively, we have been able to offer our customers improved levels of service and an expanded range of products at competitive pricing," he states.
BSi Steel's range of carbon-steel products includes sections, sheet and plate, tubing, cold-formed sections, roofing and selected mining products.
The company offers in-group processing through its Shearcut division, which is based in Klipriver. This facility offers coil slitting, coil levelling, in-line blanking and batch multiblanking, as well as plate and sheet cutting.
"The company is focused on servicing its existing customer base and is, therefore, guided by the demands of its customers," says Teichmann .
"We select our product range to suit their requirements."
He explains that as BSi Steel's market grows, so does its competitiveness across its product range. "The company's ability to expand on its existing range is also enhanced," Teichmann adds.
He adds that steel market volatility is always a challenge for steel companies and, as steel stockists, BSi Steel's role is to commit stock to its warehouse prior to any commitments from its customer base.
The supply of steel from the Vanderbijlpark plant of South Africa's largest steel producer, AcerlorMittal South Africa (AMSA), was severely disrupted in the first quarter of 2013, owing to a major fire at this facility.
AMSA estimates that 361 000 t of liquid steel production was lost, owing to the incident, which resulted in weeks of steel delivery backlogs. The steel producer expects to return to full production capacity only in the first quarter of 2014.
"While we have enjoyed relative price stability in the past three months, the volatility in pricing and supply remains an inherent risk to the company." states Teichmann.
However, he points out that BSi Steel has enjoyed significant growth across all its operations over the past five years.
"BSi Steel continues to fine-tune its operations to improve operating efficiencies and customer experience," he says.