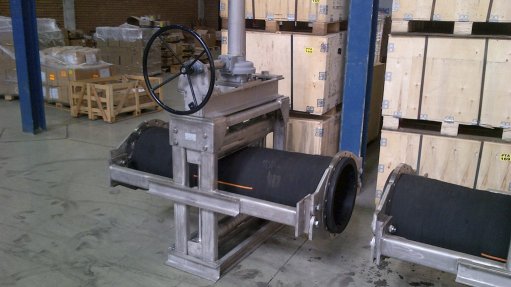 VERSATILE PRODUCTS FPV diaphragm and pinch valves are available in many different materials, with various pressure ratings, for diverse sectors
Industrial product supplier Bearing Man Group's (BMG's) strategy to enhance its fluid technology services to meet growing market demand, encompasses the introduction of new products, with the latest developments in design technologies, materials and coatings.
The company's extensive range of components for fluid technology systems and general industrial applications encompasses valves, hydraulic hoses and fittings, accumulators, cylinders, heat exchangers, pneumatics, hydraulic motors and hydraulic plumbing, as well as pumps and reservoir accessories.
BMG's range of FPV valves includes open frame pinch valves, designed for enhanced operating efficiency and extended service life in diverse sectors. These valves are particularly well suited for the control and isolation of abrasive slurries.
Open frame pinch valves have been developed on the successful design of BMG KLEP's – BMG acquired Krugersdorp-based KLEP Valves in 2015, when it was incorporated into BMG's fluid division – patented FPV diaphragm valves. FPV diaphragm and pinch valves, which are 100% locally manufactured, are available in many different materials, with various pressure ratings to meet exact requirements.
This range is available with various linings – for example, soft rubber, hard rubber, Butyl rubber, Halar and jumbo rubber. The lining and diaphragm design increases the life span of the valve, owing to high abrasion resistance and chemical resistance properties of individual linings and diaphragms.
Pinch valves – with a design where the sleeve is pinched to close mechanically or automatically – are ideal for pumping or the transfer of liquids, powders, solids and abrasives.
BMG's range of pinch valves is available with a short and long frame design, in sizes between DN 50 and DN 600, with special face-to-face dimensions and larger sizes on request. The body is made from cast steel, but stainless steel is also available for specific applications. These valves have manual, gearbox, pneumatic and hydraulic actuation.
The company supports its extensive range of industrial valves with a technical backup service to ensure optimum efficiency and extended service life of every valve. BMG also offers a total process and lubrication management solution to meet exact market demand.
The company's expansion programme in the fluid technology sector also involves increasing stockholdings through more than 148 BMG branches and a distribution network in South Africa and spanning Swaziland, Zambia, Botswana, the Democratic Republic of Congo, Ghana, Mozambique, Namibia and Tanzania.
"BMG boosts its fluid technology services with dependable technical support to ensure optimum safety, efficiency and extended service life of every system, even in corrosive environments. With broad technical capabilities, the team is able to solve problems in applications where conventional components have failed after short periods of service," says BMG industrial valves product manager Willie Lamprecht.
He concludes by mentioning that BMG's fluid technology services also cover project engineering and consulting, cylinder design and manufacture, training, repair and testing, as well as on-site container services.