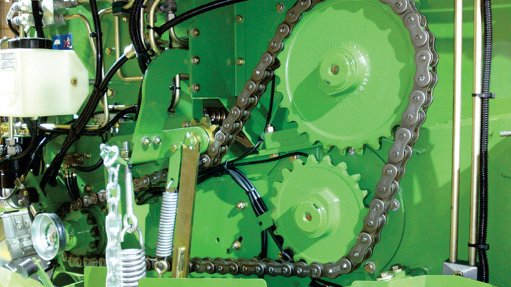 FAVOURED CHAIN Aboutt 70% of baler OEMS choose the Tsubaki RS100HT Agri Baler Chain
Engineering solutions provider BMG's agricultural specialists work closely with farmers, to ensure they benefit from constantly changing trends in agricultural machinery.
"Through BMG's Boer Slim/Smart Farming initiative, which was launched about eight years ago, the company offers farming sustainability solutions that focus on effective food production, the correct use of suitable equipment for the specific task and the efficient application of advanced technologies," explains BMG agriculture manager Carlo Beukes.
He mentions that this programme is even more critical during the Covid-19 pandemic. Farmers are under enormous pressure to produce adequate supplies of fresh foods for our vulnerable population.
There is a growing trend throughout Southern Africa, in the transformation of conventional farms into commercial units, run as profitable businesses. There is also greater acceptance by local farmers that advanced equipment is necessary to optimise productivity and minimise downtime which is an investment that translates into tangible operational efficiencies.
Farmers acknowledge that there is value in high quality equipment and replacement parts, rather than the use of outdated, cheap and inferior components, says Beukes.
"BMG's extensive range of engineering components, which conforms to all relevant quality assurance and specification certifications, is carefully selected for local farmers, to ensure optimum performance even in tough operating conditions."
A recent success in agricultural engineering for one of BMG's key suppliers, motion control manufacturer and supplier Tsubaki, was solving the chain breakage problems on harvesters as a result of excessive shock-loads in the field.
During the harvesting season, it is essential that round balers operate efficiently to ensure maximum yield for the farmer. Shock loads during baling weaken an inferior chain, which can lead to stoppages for farmers who are working to tight deadlines.
The pressing process also exposes chain to extreme forces which conventional chain cannot withstand for an entire season. Farmers have been unhappy with the loss of productivity during the downtime of their balers and resent chain replacement costs.
Tsubaki developed a heavy-duty reinforced roller chain to meet the high-volume capacity of agricultural machinery in tough operating conditions, with no risk of breakage during operation.
The robust Tsubaki RS100HT chain for balers has a 25% higher maximum tensile strength, improved anti-shock performance and greater fatigue strength, when compared to chain manufactured by other companies.
Almost 70% of global baler original-equipment manufacturers now choose the Tsubaki heavy-duty chain series as standard for installation in the main drive system. Feedback from farmers indicates that they are satisfied with higher productivity, reduced maintenance requirements and increased reliability throughout the season, with no loss of production from downtime.
A further benefit is that heavy-duty Tsubaki chains can also prepare perfect bales, as these chains are suited to the high pre-tension settings required to allow easy storage and shaping of hay.
BMG's new reinforced Fenner Triflex couplings are also new to the range. The robust couplings, with forged steel flanges, provide an integrated solution for the safe and efficient transfer of torque in many applications, including agricultural pumps systems.
The durable couplings are designed to compensate for axial, radial and angular misalignment even in arduous conditions. The high-quality elastomer elements, with reinforced cord inlays, provide effective dampening for torque peaks and shock loads, also absorbing start-up impacts.
Rubber components, which provide additional support and protection, also reduce noise levels during operation.
Typical agricultural applications for this range include pump systems, hydraulic drives and conveyor drivelines. The system, with a high-power density ratio, also ensures safe and efficient performance in special machinery like wood cutting machines and shredder applications.
The versatile design of this series enables compatibility with all sizes, both regular and custom dimensions, of shaft/hub connection requirements. Flange hubs can be machined to exact keyway/slot or multi-spline connection specifications.
A notable feature of this series is the three-edged design of the forged steel flanges, that enables connection of shaft diameters up to 127 mm, according to BMG specialists.
Flanges are protected against corrosion by an electroplated coating which ensures superior storing characteristics and protects steel components against aggressive media and environmental impacts. This protective coating is particularly useful in corn harvesting machines and inside biogas fermenters.
Flanges and couplings are joined by a simple screw connection, using high grade 10.9 bolts and robust washers with a 300 HV hardness. The screw connection is easy to install, as the bolts are connected directly into the flange material.
This system allows easy replacement of couplings, without the need to disassemble metal parts. All that is required is loosening of the bolts and replacing the flexible disc element in a radial direction.
BMG's electronic, fluid technology, tools and power transmission components have been carefully selected to operate together, to form an efficient system that enhances productivity and energy efficiency.
Immediate availability of a comprehensive range of quality branded products, technical support and a total solutions service, sets the company apart in the agricultural community.
BMG provides solutions to all key players, including local manufacturers of equipment and implements, agricultural resellers and farmers.