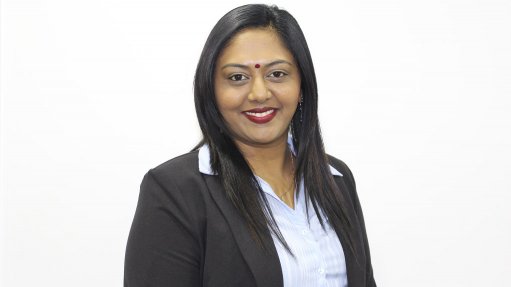 PREDAHNI NAIDOO Women's safety wear supplier Sisi Safety Wear aims to drive the message that "women must strive to receive safety wear that is suited for her"
Industries that require safety footwear and personal protective equipment (PPE) have historically been male-dominated, but this trend is changing and the challenge is to provide women with PPE that is suited to the female body.
Women's safety wear supplier Sisi Safety Wear, aims to drive the message that "women must strive to receive safety wear that is suited for her", says Sisi Safety Wear brand manager Predahni Naidoo.
However, she notes that there are challenges in ensuring that women in the engineering industry receive adequate safety wear.
"There are distinct differences between the anatomy of a man and that of a woman, and there is a lack of understanding regarding the practicalities and benefits of buying PPE suitable for women," says Naidoo.
Sisi Safety Wear's ambition is to drive awareness that if women are comfortable in their safety wear this should lead to higher productivity and satisfaction of women in engineering industries.
Naidoo says the shift in mindset starts with procurement officers changing their approach. This can be achieved by driving the important message that PPE is available for women and should be made available to staff. In doing so, proactive action can be taken.
"However, owing to the increase in the number of women entering the engineering sector which was very much male dominated, what tends to happen is that procurement officers choose to buy men's wear in bulk. This is predominantly due to historic buying behaviours as well as businesses being under economic pressure which leads to bulk buying," she adds.
Offering
Sisi Safety Wear provides women with three categories of safety wear: footwear, workwear and fall-arrest PPE.
The safety wear is designed specifically for women and is developed by doing careful research in consultation with women in the industry to fully understand their needs.
The Sisi footwear range includes single- and dual-density collections. "The shape of a shoe needs to be considered when supplying them to women," says Naidoo.
The range accommodates women's feet by providing narrow- and standard-sole shoes that offer support for the standard shape of a woman's foot.
The workwear comprises standard cut conti suits, extended-cut conti suits and maternity cut suits. The variety of cuts are designed to cater for a range of body shapes and accommodates various bust and waist sizes.
The fall-arrest PPE is a belt harness range with permanently attached, shock-absorbing lanyards that are adjustable on the shoulders, waist and legs. The fall-arrest includes elasticated chest straps to prevent secondary injuries.
All the products take functional and ergonomic requirements into account.
"You should not just have to fit into something if it is not made for you, especially since there are locally manufactured offerings out there," emphasises Naidoo.
Safety and Productivity
Ill-fitting equipment can not only cause a range of health and safety problems but also affect the wellbeing of employees.
"If a pair of shoes does not fit properly, it can often lead to the foot oscillating in the shoes, which has the potential to create further injury, such as calf injuries, muscle strain and back problems," says Naidoo.
She adds that a wearer's foot could also slip out of the footwear, leaving the employee vulnerable to accidental injury defeating the purpose of wearing safety footwear.
There are also economic implications, including reduced productivity and increased sick leave, medical claims and workmen's compensation – all of which negatively affect the bottom line.
Moreover, Naidoo emphasises the importance of adequate safety wear for women in maintaining their dignity.
"If we are to make women feel comfortable and truly included in the workforce, procurement needs to focus on obtaining safe, effective and specific safety wear for them."
She concludes by mentioning that, ultimately, enabling women and providing them with the correct equipment is essential and Sisi Safety Wear is taking on the responsibility to change the mindset of people to ensure women are safe and effective in their work environment.