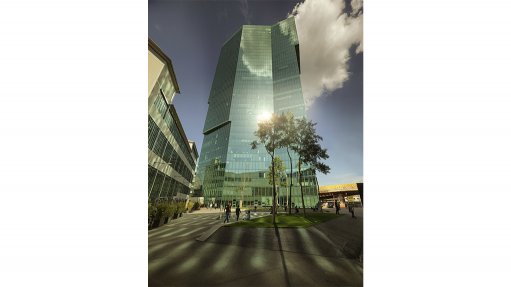 ENERGY EFFICIENT BUILDINGS Older buildings consume up to twice as much energy as new construction. Retrofitting existing buildings with more efficient technologies is however possible
Software solutions provider ABB Electrification has experienced high demand from the local market for energy efficient systems related to integrating automation into electrical and mechanical systems, particularly in terms of retrofitting these products into older buildings.
"These energy efficient systems have been around for many years, but until last year, they were pushed aside locally as they were often too expensive. Going forward, energy efficient systems can be a lot more easily adopted," explains ABB Electrification product marketing specialist Yuri Ramsamy.
He points out that a reason for this demand is the need for more effective energy management and energy efficiency in the local market.
This demand for energy efficient systems that can be retrofitted onto older, less efficient buildings is also a consequence of electricity prices, he adds.
Ramsamy highlights that ABB Electrification's solutions can provide more opportunities for energy monitoring and efficient energy management.
Two solutions he discusses include the ABB Ability Energy and Asset Manager, as well as the i-Bus system. Both solutions are retrofittable and can lead to lower energy costs, reduced maintenance costs and fewer voids.
The Energy and Asset Manager is a cloud solution that integrates energy and asset management onto one dashboard, providing full visibility on assets and the behaviour of a specific electrical system. The Energy and Asset Manager can be tailored to a specific building and its distribution boards.
"We can measure things like the temperature in distribution boards and current flows. As these products also need to be maintained, the Energy and Asset Manager would remind the facility manager of when maintenance should take place. If temperatures are rising in a circuit board for example, it can raise an alarm to the facility's manager so that they can conduct maintenance, which can help reduce maintenance costs."
ABB's i-Bus system is based on the Konnex Networks standard, which is a type of technology that controls the automation of important functions of residential, commercial or industrial buildings.
These capabilities can allow facility managers to select products independently and make changes at any time during a running project to ensure more sustainable operations and lower costs.
He states that incorporating Energy and Asset Manager with the i-Bus system can help facility managers make active decisions to reduce energy use by turning off key functions such as heating, ventilation and air conditioning, as the i-Bus system can help facility managers keep track of how many people are present in a building.
Ramsamy also states that this year, ABB Electrification has launched a product used for monitoring the i-Bus system. The product is a plug-and-play module that can be plugged into the i-Bus system to provide visualisation of the system on devices such as tablets.
"The plug-and-play visualisation dashboards are limited to a specific group of products, specifically for the products that are a part of the i-Bus system range. We can only visualise ABB products that have been pre-mapped onto the dashboard."
Retrofit Project
This year, ABB Electrification has been involved in a local retrofit project that made use of the company's System pro M compact InSite solution. The solution has been developed to meet requirements of energy and asset management by monitoring and controlling the energy flow in sub-distribution boards.
"In Phase 1, the client, active in the commercial sector, wants to monitor energy use in the distribution boards throughout their facility. The System pro M compact solution has the ability to measure every single load inside the distribution board. We also use open core current transformers, which make this solution retrofittable as you don't need to switch anything off inside the distribution board during installation.
"We also can read circuit breaker statuses which can tell us if motors are running, and we also have outputs to control and switch these motors on and off. This is all incorporated into one device."
Ramsamy asserts that ABB Electrification is using this solution to allow for more levels of control and monitoring to be used on a single device, making retrofitting easier.
He adds that, currently, ABB Electrification is about 50% done with Phase 1, which began in March this year and should be completed by the end of this year.
Phase 2 of the project will only begin once the client has collected enough data from Phase 1, which is being conducted on a single building.
If the client is satisfied at the end of Phase 1, System pro M compact InSite will be rolled out to the client's other buildings.
"This will provide a single point of entry to all of their buildings so they can monitor energy use, and control all of their buildings at a single point. As the System pro M compact InSite is new to the local market, this will give us a local reference. Being part of this project will give us the ability to prove energy savings in a local context," he concludes.