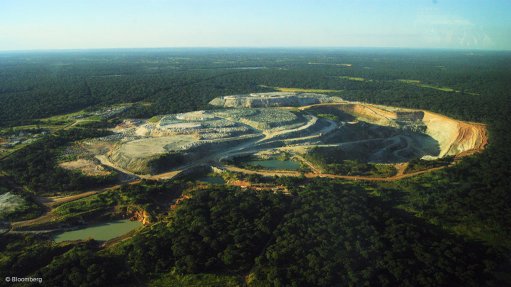 MAINTAINING CRITICAL OPERATIONS Operations at Kagem mine, suspended for a year until March 2021, were expected to ramp back up to full scale by the end of April
Photo by: Bloomberg
Emerald miner Gemfields, which operates the Kagem emerald mine in Lufwanyama, Zambia, last month announced the results of an emerald auction comprising a series of five sequential mini auctions that were held between March 15 and April 17.
The proceeds of this auction will be fully repatriated to Kagem, in Zambia, with all royalties due to the Zambian government being paid on the full sales prices achieved at the auction.
Operations at Kagem mine, which remained suspended for a year until March 2021 as a result of the Covid-19 pandemic, were expected to ramp back up to full scale by the end of April.
During the year-long suspension of all but critical operations, Kagem employees (excluding those on critical operations) were placed on leave with 80% of basic salaries, throughout the suspension period, despite not working. This is in line with the new Employment Code Act 2019.
Kagem has been able to avoid redundancies and retain its workforce, owing to the financial support provided by the majority shareholder, Gemfields.
The auction contained a selection of grades that are typically offered at auctions of higher quality Kagem emeralds. Selected lots were made available for in-person and private viewings by customers in Tel Aviv, in Israel, Dubai, in the United Arab Emirates, and Jaipur, in India.
Following the viewings, the auctions took place through an online auction platform specifically adapted for Gemfields and which permitted customers from multiple jurisdictions to participate in a sealed-bid process.
The highlights from the March and April 2021 emerald auction include a total auction revenue of $31.4-million; an average price of $115.6/ct; 99% of the carats offered at the auction were sold; and of the 37 lots offered, 36 were sold (97%).
Prices achieved during the series of mini-auctions held in November and December last year were robust, but resulted in a slightly lower average price per carat. The March and April 2021 sales included the finer qualities of emerald that were not offered in the November and December 2020 sales, and this contributed to the increased price per carat achieved.
Combining the results from the November and December 2020 sales with those from the March and April 2021 sales provides a more balanced view, with an average sales price of $93.21/ct, an all-time high.
"This was Kagem's highest auction revenue since March 2016 and we were very pleased to see such strong demand and pricing. Because operations were suspended at Kagem in March 2020, the world's largest emerald mine produced no new emeralds for more than a year.
"Owing to the arising supply and demand dynamics, a number of our clients have therefore seen this auction as a vital opportunity to buy emeralds. "Today's result also means that Kagem has already surpassed the aggregate auction revenues achieved in the whole of 2020, which stood at just $22.4-million as a result of the fall-out from the Covid-19 pandemic," commented Gemfields product and sales MD Adrian Banks.
"Gemfields is excited to be back in business after the lengthy pause in both mining and sales and – as always – we extend our sincere thanks to our hard-working teams, to our host government in Zambia, and to our customers for their ongoing support," he concluded.