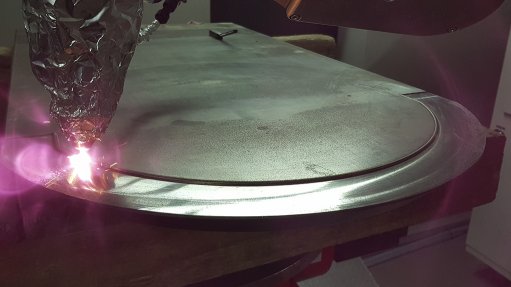 LASER CLADDING Laser cladding is a unique process ensuring that valve components do not become distorted
High technology spray coating specialist Thermaspray offers the distinct technologies of thermal spray, laser cladding and Teflon for application of coatings on new or refurbished valves.
These technologies provide a suite of benefits, tailored to every application for every customer, says Thermaspray thermal spray production manager Paul Young.
While thermal spray can be applied in various ways, two methods are primarily used to spray valve components – high-velocity oxy-fuel (HVOF) or plasma spray.
Coatings applied using the HVOF process are high-density, low-porosity, and corrosion- and wear-resistant coatings, depending on the material sprayed onto the valve component.
A tailored coating is selected based on the operating environment of the valve.
Plasma spraying is a unique process that can spray ceramic materials, owing to a high temperature flame that is able to melt ceramic materials. The coated ceramic is highly resistant to corrosion and wear.
Thermal spraying is highly effective in protecting various valve components, such as the ball and seats in ball valves, using the HVOF application of tungsten carbides, chrome carbides or nickel-based alloys specifically for corrosion protection.
Gate valve blades are protected through the HVOF application of tungsten carbide in abrasive or erosive environments, while butterfly valve discs are protected through the HVOF application of tungsten carbide in abrasive and/or erosive environments.
The ball and seats in ball valves can be protected using the plasma spray of ceramics for wear or corrosion resistance, and specialty alloy coatings for severely corrosive applications, such as those in copper leaching plants, explains Young.
With laser cladding, or laser metal deposition (LMD), a weld cladding, or welding overlay, is applied to a component's surface.
"The process is unique, as it produces exceptionally low heat input into the component being clad, which, ultimately, means that valve components, such as bodies, discs, gates or plugs, do not become distorted during the process," explains Thermaspray laser cladding manager Jordaan Lourens.
Welding repairs are often time-consuming and costly because they include some form of heat treatment after welding and require extensive machining to mitigate distortion that has taken place.
However, heat treatments can often be avoided altogether using laser cladding, and machining or grinding after LMD is limited only to the area that was clad. Highly accurate, computer numerical controlled, localised application on specific areas on a component is also possible with LMD.
"Further to these benefits, LMD overlays exhibit a very shallow heat-affected zone, compared with those seen in traditional weld overlay methods like plasma transfer arc or submerged arc welding. This is advantageous as the mechanical properties of the component's base material are unaffected by the LMD overlay," says Lourens.
The process is suited to valves subjected to impact wear or abrasion, such as gate valves in a slurry environment, through the application of a tungsten carbide- or cobalt-based alloy for extreme wear and abrasion resistance.
It is also suited to highly corrosive environments in which a nonporous, nickel-based cladding is required to protect the base material, such as ball valves in acidic environments, as well as high-temperature environments where a cobalt- or nickel-based alloy is needed to protect the valve from high-temperature oxidation.
Applications where mechanical impact or point-loading are involved are better served using laser cladding, as this process produces a metallurgical bond between the surface and the cladding. The component's surface is melted by a laser and solidifies with the molten cladding material, which is highly impact resistant.
"Teflon coatings have unique properties, such as non-adherence, resistance to extreme temperatures, excellent corrosion resistance in certain environments, and resistance to chemical reactions," says Thermaspray engineering support manager Philip van Wyk.
Valve components are coated with Teflon primarily to avoid components adhering to one another during operation, for example valve body end caps adhering to the valve body, or ball valve stems adhering to the ball. Similarly, butterfly valves are also often coated with Teflon either for corrosion protection, or to avoid unwanted adherence between the components, or between the valve components and the media moving through them.
Teflon coatings are ideally suited to valves operating in the pharmaceuticals, biopharmaceuticals or chemicals processing industries, says Van Wyk.
Thermaspray boasts a fully equipped in-house metallographic laboratory used for in-house quality assurance and quality control, and is ISO 3834-2 certified, providing customers with peace of mind that all work is carried out to the highest, internationally recognised standards, concludes Young.