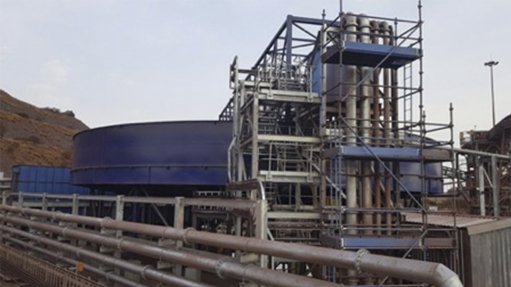 QUICK AND EASY A bolted thickener is quicker and safer to construct on-site, saving on costs and improving quality control
Engineering company FLSmidth was chosen as the preferred provider for four large bolted thickeners for a large coal customer in Mozambique.
Two of the thickeners are designed to reduce water load on the filters allowing for a drier filter product, while the other two thickeners recover water from the plant tailings.
The installation, which includes E-Volute feedwell technology for superior flow distribution, will contribute to achieving optimal water balance at the coal plant in Mozambique, explains FLSmidth sub-Saharan Africa and Middle East projects and account sales GM Howard Areington.
"The thickeners measure 45 m in diameter and will control the density of material to the belt filters, improving the plant's output.
"The design was based on the testwork we conducted on the customer's material, allowing us to determine the best thickener solution," he says.
Areington adds that a bolted thickener is quicker and safer to construct on site, saving on costs and improving quality control. Further, the bolted thickeners were suited to the project's remote location.
"The extent of welding in the construction of normal steel thickeners typically runs into kilometres," he says. "By contrast, the amount of on-site welding required by a bolted thickener can be measured in metres."
The use of E-Volute feedwell technology to improve flow distribution will lead to lower flocculant consumption, better settling rates and improved overflow clarity for the "optimal performance" of the thickener.
Despite the Covid-19 lockdown, the fabrication of the thickeners in South Africa progressed well. This was as a result of the fabrication being managed by FLSmidth's global resources as well as the design team being able to work remotely, explains FLSmidth project manager Kevin Kockott.
"Our local South African office collaborated closely with our engineering hub in Salt Lake City, in the US, ensuring that our engineering work on the project was able to continue without interruption," says Kockott.
FLSmidth has been involved with the coal project for almost a decade and has provided a significant portion of the coal preparation equipment. To date, this has included reflux classifier technology, pumps, screens and feeders, he concludes.