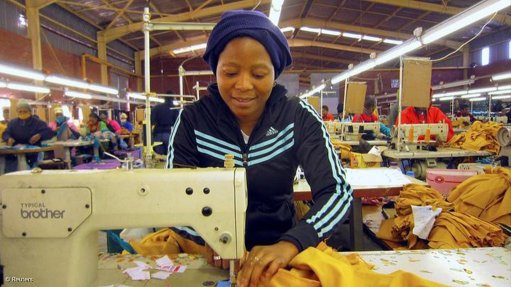 A project is underway to produce a homegrown mask for use by all South Africans, close to the standard of the FFP2 and N95 facemasks.
FF2 and N95 masks are medical standard masks, often provided to hospital staff working on the frontline of infection control. They offer between 94% and 95% minimum filter efficiency.
There are a number of local companies able to produce FFP2 masks in South Africa.
However, this particular facemask project is a collective attempt by the South African textile and clothing industry to boost the fight against Covid-19, and to ensure the sustainability of the industry in the South Africa through this difficult period, says Kingsgate Clothing Group executive Ahmed Dhai.
Kingsgate is a family business that will celebrate its sixty-fifth birthday in May this year. The company has a factory in Hammarsdale, near Durban and produces 95% of its clothing in Southern Africa. It supplies clothing lines to retail outlets such as Mr Price, PEP and Jet, while it also provides various government departments with uniforms, linen and patient wear.
The group employs about 1 000 people directly, as well as roughly 5 500 people indirectly, through, for example, outsourcing to a number of other factories, as well as providing work to printing and embroidery businesses.
"We don't normally produce face masks," says Dhai. "But we do want to help in the fight against the Covid-19 pandemic."
In order to control the rate at which the virus is spreading, each South African, following the current lockdown, will need to wear a mask that is washable and reusable, he adds.
N95 masks are molded into shape, explains Dhai, which makes it difficult to produce, especially by the local clothing sector.
"On a scale of this kind, it is just too difficult."
However, in searching for an alternative, Dhai came across a US company producing masks for the US Federal Emergency Management Agency, which is willing to share the intellectual property of its product with South Africa.
Kingsgate Clothing has already produced a few prototypes of a mask based on this, but is now waiting for government to release its final specifications on products of this kind.
"If we meet those specifications we are ready to scale up production to the benefit of South Africa," says Dhai.

"We're not looking to make a profit, but we are looking at sustaining our business and our employees over the next few months.
"It is completely unprecedented that the clothing and textile industry has managed to organise itself in such a short space of time to fight this virus."