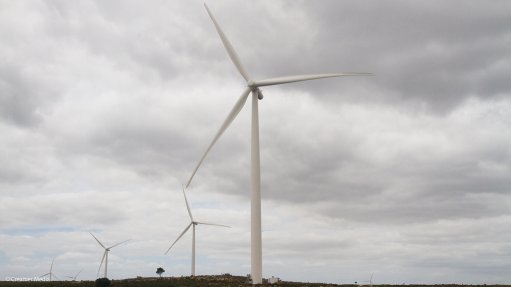 Jeffreys Bay wind farm
Photo by: Creamer Media
The Climate Justice Coalition (CJC) has launched a Green New Eskom campaign, which demands a rapid and just transition to a more socially-owned, renewable energy-powered and zero carbon economy.
The CJC comprises trade unions, civil society and community organisations working together on a climate justice agenda.
To launch the campaign, CJC held a digital rally with speakers to discuss the need for and vision of a Green New Eskom.
The rally had a petition delivered to Eskom risk and sustainability division head Andrew Etzinger.
The demands in the petition were supported by civil society members and union organisations that attended the digital rally through the video conferencing platform Zoom.
CJC secretary Alex Lenferna says Eskom is the largest climate polluter on the continent and one of the biggest threats to the South African economy – hurting it through load-shedding, high prices, air pollution, corruption and taxpayer bailouts.
"If Eskom embraces renewable energy's potential and enacts deep reforms, it can build a better future. Transitioning to 100% renewable energy can lower energy costs by 25%, create 200 000 jobs by 2030 and one-million jobs by 2050," says Lenferna, adding that this transition would also save billions of litres of water and make energy systems more reliable.
General Industries Workers Union president Mametlwe Sebei comments that while the country must embrace a transition to renewable energy, it cannot leave behind workers and communities who depend on coal for their livelihoods.
"Renewable energy must be to the benefit of all and not [only a] few [persons] profiteering from our legitimate and desperate need for energy."
Further, activist organisation Extinction Rebellion activist and filmmaker Rehad Desai says the world faces two connected crises – Covid-19 and the climate crisis.
"Just as we needed urgent action on Covid-19, so we need action on climate change before it is too late. South Africa is already reeling from flooding, droughts and food insecurity.
"Eskom must stop aggravating the climate crisis and rapidly become part of the solution."