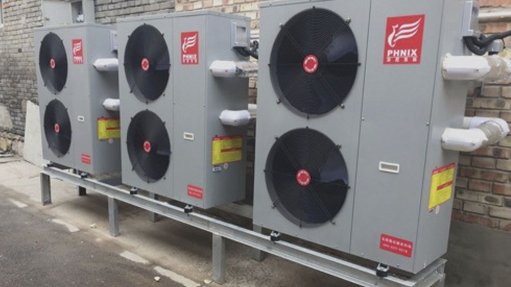 ALLROUND EFFICIENCY PHNIX's water heat pump applications have constant hot water volumes, and are energy and cost-efficient
China-based heat pumps supplier PHNIX announced that it will deploy more market resources to support business partners in South Africa, most specifically to new water heater distributors.
During the announcement, in May, PHNIX global overseas business deputy GM Peter Wang explained that PHNIX will commit to offer its business partners a series of preferential benefits, including a 50% discount on existing products, as well as priority in new heat pump and water heater supply.
PHNIX water heat pump product manager Jab Fan emphasised that water heat pumps supplied by PHNIX have been specially developed for the South African market, owing to its energy-saving potential and competitive pricing.
The water heat pumps, known as the PHNIX heat spring series, can produce water temperatures as high as 65 ºC. This is achieved by circulating heating, as opposed to most domestic water heaters in the local South African market, which are only able to achieve 55 ºC, Fan explains. He adds that the 65 ºC high-outlet temperature increases hot water volume supply by 30%, and allows end-users to save costs, owing to the heat spring series being 20% more energy efficient.
PHNIX heat spring series water heat pumps are designed to satisfy demand on a residential level. The pumps have automatic heating, which means that once the water temperature drops, the heat pump begins to work immediately, ensuring constant hot water supply. The pump is also environment-friendly, with the option to install the pump with a solar panel.
PHNIX is also innovating water heat pump control, with its operation interface accessible through a WiFi connection. On a smartphone, a consumer is able to download an application, after which they can add water heat pump units. These units can be controlled anywhere, at any time, by using the application. It is also available on a computer, where units are added and can be controlled, provided there is an Internet connection.