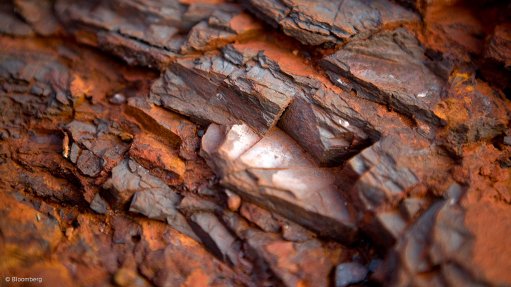 Photo by: Bloomberg
TORONTO (miningweekly.com) – Iron-ore junior Champion Iron has agreed to buy Cliffs Natural Resources' Bloom Lake mine and related rail assets and the Quinto mining claims, located in Quebec, for C$10.5-million in cash and by assuming certain liabilities.
Under terms of the asset purchase agreement, Champion subsidiary Québec Iron Ore would also become responsible for environmental obligations that included environmental reclamation liabilities presently assessed at about C$41.7-million by the Quebec government, as well as for replacing certain bonds securing certain obligations of Bloom Lake totalling about C$1.1-million.
"Bloom Lake is considered an exceptional opportunity for Champion, and one that would not have presented itself without the challenges of the current downturn in bulk commodities. The tough market conditions have meant that we have been able to negotiate a competitive and successful bid," Champion chairperson and CEO Michael O'Keeffe stated.
Cliffs had in January filed for creditor protection for its Canadian arm to try and isolate losses and protect shareholders from the vast majority of the $650-million to $700-million in closure costs tied to its mothballed Bloom Lake assets, which failed to turn a profit amid plummeting iron-ore prices.
According to Metal Bulletin, markets witnessed the worst week in terms of iron-ore prices since its indices began in 2008. The 62% iron fines recorded its lowest weekly average on record at $38.72/t – the first time ever below $40/t. Friday's price was down a further $0.22/t.
O'Keeffe noted that the assets had been well maintained since the operation was shuttered, with an extensive list of well-maintained plant and capital equipment included in the acquisition.
Subject to certain closing conditions and court approval, the deal was expected to close during the first quarter of 2016.
Champion concurrently announced a private placement financing of ordinary shares at a price of C$0.16 per share to raise up to C$25-million, in order to fund the acquisition and to provide working capital.
PROJECT OPTIMISATION
Champion on Friday revealed that it had closely monitored the development of the Bloom Lake mine over the past two years, and had held several meetings with the parties involved in Bloom Lake's Companies' Creditors Arrangement Act procedures during 2014/15.
Since admission to the Bloom Lake data room, Champion said it had reviewed the Bloom Lake assets and had gained significant insight and confidence in the project from technical and financial perspectives.
In preparation for the bid, Champion had completed financial and technical due diligence and prepared a financial model that reflected pricing assumptions and anticipated production improvements and cost reductions required to achieve a profitable operation.
"Champion believes there is capacity to reduce the care-and-maintenance costs at the Bloom Lake mine, which would reduce the overall required capital," it stated.
The company also reported that discussions with commodities traders had confirmed off-take interest with the backing of steel mills, to the extent that Champion had confidence that future Bloom Lake production could be pre-sold.
Also, discussions with strategic partners, funds, government agencies and private investors were at an advanced stage for the company to obtain additional financing in order to secure up to 24 months of care and maintenance, should low iron-ore prices prevail during this period.
Meanwhile, Champion said it had identified potential to improve mine capacity at Bloom Lake from historical volumes of six-million tons a year of iron fines grading 66% purity, to seven-million tons a year at the same grade, by implementing a new mine plan and through improved recoveries.
Champion also believed that it could drive operational free-on-board costs per ton down substantially from previous levels.
"Even with an extended care and maintenance and planned upgrade period, Bloom Lake could potentially become one of the lowest capital cost iron-ore mines in the world. As a contingency, the plant is considered to be in a perfect situation to hibernate in a possible negative market environment given the amount of work the previous owner has already committed to preparing the site for closure," Champion said.
ASX- and TSX-listed Champion held a portfolio of iron-ore properties in the Labrador Trough iron-ore mining district of Eastern Canada, with its flagship project being the Consolidated Fire Lake North deposits. The main focus of Champion's activities in recent years, holding over three-billion tons of high quality iron-ore resources, were concentrated on the effort to achieve an economical long-term access from mine to ship.
To this end, the Quebec government had granted C$20-million for the feasibility study of a new rail linking the Fire Lake/Bloom Lake area to the port of Sept-Îles. This study was being managed by Champion, and was expected to be finalised in 2016.
Champion's TSX-listed stock jumped 30%, or C$0.04, after the deal was announced around midday, changing hands at C$0.20 apiece.