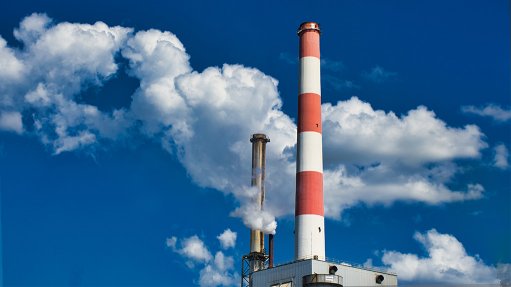 SMOKE STACKS The emissions of concern in coal-fired technology are carbon dioxide, sulphur oxide, nitrogen oxide and particulates (usually fly ash of various sizes)
The global success of circulating fluidised bed combustion (CFBC) boiler technology, suggests that this should be the technology of choice for the future in State-owned power utility Eskom's power stations.
This is owing to South Africa's abundant coal reserves of low-grade quality, the South African Research Chairs Initiative (SARChI) Clean Coal Technology (CCT) Group, at the University of the Witwatersrand (Wits SARChI CCT Research Group) tells Engineering News.
SARChI immediate past chairperson, Professor Emeritus Rosemary Falcon notes that the research undertaken by the Wits group, using pilot-scale units abroad, has established that the CFBC boiler technology is most suited to South African coal.
This boiler technology, according to Wits SARChI CCT Research Group senior research fellow and interim research leader Dr Samson Bada and other doctoral candidates, can tolerate a range of coal qualities – including the lowest grades of coal in the country – and such qualities can be combusted quite efficiently and with significantly reduced greenhouse-gas (GHG) emissions.
Bada explains that in recent tests conducted in CFBC boiler technologies in Europe and the US, South Africa's lowest grades of coal were combusted to the same level of efficiency as its high-grade export coal, as well as high-quality, low-ash Russian coal – all coals being tested in the same conditions.
The research has also shown that South Africa's high-ash coal is unique in that it has been found to "self-scrub", which essentially means that the coal can self-reduce or self-eliminate certain GHGs – and sulphur oxides in particular – within the combusting bed of CFBC boilers.
This negates the need for expensive, water-intensive, post-combustion processes, such as flue gas desulphurisation plants, at the back-end of CFBC boilers.
This phenomenon, Bada highlights, is regarded as a world-first discovery and is attributed to the neutralising effect produced by specific minerals in South African coal.
For these reasons, CFBC boiler technology has many benefits over Eskom's current fleet of pulverised coal boilers, despite its not yet having been introduced in South Africa, Falcon points out.
She notes that it is, however, the boiler technology of choice for many power stations currently being built globally in the Far East, Middle East and several other African countries.
Falcon advances that an investigation testing whether this boiler technology could be retrofitted to one or more of Eskom's power stations was undertaken some years ago to enable it to operate more efficiently, more cleanly and for extended periods.
At the time, the boiler technology was considered too small, in terms of capacity, to suit the utility's needs. Although currently, CFBC boilers that are of a similar capacity as Eskom's largest power stations' boilers are now successfully operational worldwide.
Coal-fired Emissions
The emissions of concern in coal-fired technology are carbon dioxide (CO2), sulphur oxide, nitrogen oxide and particulates (usually fly ash of various sizes), Bada says.
He notes that in the reduction of CO2 emissions, up to 50% of CO2 can be reduced by carbon capture and storage (CCS) in geological strata, whereas up to 33% can be eliminated by increasing coal-fired boiler plant efficiency.
It must be noted however, that when following the CCS route, between 10% and 12% efficiency is lost in the capture, processing, transport and storage of CO2.
South Africa, through the South African Centre for Carbon Capture and Storage, is exploring the possibility of storing CO2, once captured, in underground sites in KwaZulu-Natal and the Eastern Cape, and/or in the process of mineralisation.
Further, CO2 reductions are achieved using highly efficient low-emission boiler technology, including those technologies used in the supercritical to ultra-supercritical and advanced ultra-supercritical suite of boilers. Eskom's Medupi and Kusile power stations make use of such advanced technologies, notes Bada.
Another form of CO2 reduction is the cofiring of South African coal with biomass. The results of recent research at Wits has proved that cofiring coal with biomass is possible and efficient, and that this process can significantly reduce emissions.
"Biomass not only reduces the amount of coal being combusted, but the CO2 produced by the biomass during combustion is also considered neutral and is discounted, as this is considered to have been absorbed by the plants during the growth of such vegetation," highlights Bada.
Thus, when coal and biomass combine to contribute to the heat in the combustion and power generation process, biomass – being considered CO2 neutral – does not contribute to the CO2 inventory in the cofiring process.
Additionally, the Wits SARChI CCT Research Group has looked into a range of biomass forms and their roles in cofiring, particularly in South Africa. The research, Bada advances, has involved the preparation of raw and heat-treated forms of each plant form, followed by testing the combustibility of these materials, as well as their compatibility when combusted with coal.
The group suggests that the results obtained from advanced combustion tests have shown a high degree of ignition and combustion compatibility between coal and the wide range of biomass forms, all of which have undergone heating to specific levels of torrefaction.
The results on a laboratory scale have been definitive, positive and significant, the Wits SARChI CCT Research Group enthuses, concluding that this could bode well for South Africa's coal-fired power stations.