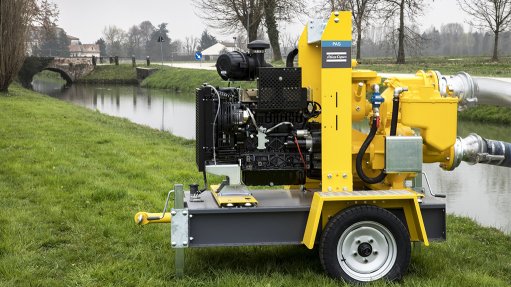 Atlas Copco's PAS pump boasts dry prime capabilities enabling users to start pumping immediately
A range of pump solutions that offer high performance and efficient operation is designed to maximise productivity and production while reducing operating costs and minimising impact on the environment.
Atlas Copco asserts that it aims to deliver products that meet the specific needs of its customers to ensure reduced operational expenditure and lowest total cost of ownership. Its range of pump solutions includes robust, compact, versatile and easy-to-service products that maximise efficiency.
The company states that its rugged PAS dry self-priming and PAC H high head dewatering surface pump series features smart design, cutting-edge technology, quality components and advanced manufacturing to deliver best-in-class pumping solutions. The PAS range of fully automatic dry self-priming centrifugal open-frame pumps has been developed as part of the company's commitment to developing smaller, lighter products that are easy to use, easy to move and easy to maintain. Also available in a canopy version, the PAS range comprises four high flow and five medium flow models delivering a maximum flow capacity of 2 100 m3/h, with a maximum head of 75 m and an outlet size of 100 mm to 300 mm.
These fit-for-purpose diesel pump systems are equipped with several features that make them particularly suitable for mining applications. The pumps are said to easily handle clean or dirty water as well as trash and fibrous, and can pump, raise and transport liquids with solids of up to 100 mm in suspension over long distances without the risk of clogging. The company explains that its pumps' exceptional solids-handling capability is owing to the inclusion of a centrifugal pump with a semi-open impeller and an abrasion-resistant pump casting. The robust PAS pumps' dry prime capabilities enable the user to start pumping immediately with a simple flip of the switch, ensuring reliable operation in stringent conditions where start-up can often present a challenge. The pump system's high-capacity diaphragm pump makes automatic priming possible, whereby the air in the pump is separated from the liquid by the large SuperDuo separator which is then sucked by the vacuum pump.
Part of Atlas Copco's Head series, the PAC H series is said to combine performance and efficiency in one smart package. Featuring a maximum head size of 150 m, a maximum flow of up to 1 200 m3/h and a solids-handling capability of up to 89 mm, the PAC H series is particularly suited to industrial applications such as water transfer and will benefit industries such as oil and gas, quarrying, surface mining and construction as well as the municipal sector.
"Equipped with a high efficiency hydraulic end, our pumps consume very little fuel irrespective of the operating conditions," notes Atlas Copco Power Technique's portable products business line manager, David Stanford. "Moreover, thanks to a modular design, one pump is capable of covering multiple requirements. With fewer pumps required and fast, easy manoeuvrability thanks to compact dimensions coupled with a light weight, uptime and productivity is boosted."
Atlas Copco explains that it has centred the design of its PAS and PAC H pump series on simplified serviceability in order to improve pump reliability, prolong the life cycle of pumps, maximise uptime and reduce maintenance costs, resulting in operational efficiency and reduced operational expenditure.
The hinge kit available on the PAS range is designed to simplify and speed up pump maintenance. The pump is fitted with a hinged cover for fast, easy access to components, enabling faster clean-up and restart as well as servicing or replacement of components without the need to dismantle the pump. The service and maintenance process on the PAC H pumps is facilitated, including for components such as Atlas Copco's semi-cartridge seal design, hinge kit, bolted wear plate and link belts. The semi-cartridge seal is standard on the PAC H, making the lip seal and impeller easily accessible. The company explains that its innovative hinge kit includes a 'swing door' that allows quick and easy access to the pump's internal workings and a single bolt to remove the impeller. Stanford explains that by using link belts to enable changeovers without having to dismantle the entire wet end of the unit reduces mean time to repair by up to 30%.
Atlas Copco's end-to-end pump solutions include service packs that comprise preventive maintenance kits, wear part kits, seal kits and gasket or O-ring kits as well as high performance, long-lasting lubricants specially engineered to match pump maintenance specifications and provide optimal pump protection.
The company also supplies a range of eleven VAR wet self-priming centrifugal pumps available in open-frame and canopy versions.