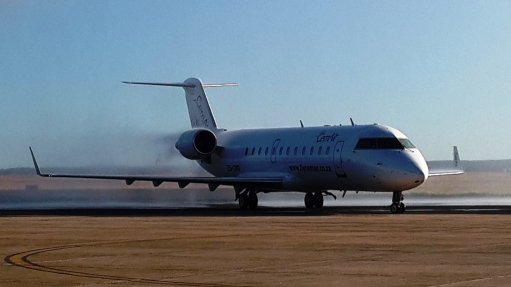 BOMBARDIER CRJ 100 AT BLOEMFONTEIN CemAir added 15 CRJ 100 jet liners to its fleet in June to grow as a regional scheduled carrier
Privately owned air carrier CemAir has opened a twice-daily flight from OR Tambo International Airport, in Gauteng, to Bloemfontein, in the Free State, to meet demand from business travellers, says CemAir CEO Miles van der Molen.
The company already runs a daily route (excluding weekends) to Kathu, in the Northern Cape, which serves business travellers going to mines in the areas of Kathu, Hotazel and Black Rock.
"We identified a gap in the market for the Johannesburg to Bloemfontein route through a survey of our clients and the clients of our partners in the aviation industry. "The twice-daily route enables business travellers to fly to Bloemfontein in the morning and be back at home in the evening."
CemAir uses the Bombardier CRJ 100 fifty-seater commuter jet liner on the route and the flight takes less than 40 minutes. The total time from boarding to disembarking is less than 55 minutes, which means that a person can arrive at OR Tambo and disembark at Bram Fischer Airport, in Bloemfontein, in less than two hours, including check-in procedures.
"The flight is a full-service flight, with a meal and drinks. Despite the route only opening at the beginning of March, there has been significant demand and the flights were fully booked on most mornings and evenings during the first week. "We expect demand to remain robust and, in time, we aim to expand the route by adding midday and evening flights," he notes.
CemAir is expanding from its traditional role as a contract aviation and chartered air carrier within Africa to a regional scheduled carrier in South Africa. It is investigating new schedule routes to Kimberley, in the Northern Cape, and Hoedspruit, in Limpopo, as well as to coastal destinations around South Africa.
The company's carriers already fly to Cape Town, through Plettenberg Bay, and to Margate, in KwaZulu-Natal. It is investigating new routes to Port Elizabeth and George, in the Eastern Cape, also linking through to Cape Town.
CemAir bought fifteen CRJ 100 aircraft from US carrier Delta in June. This is in addition to its African fleet of workhorse aircraft of one Bombardier Dash 8 100 and nine Beechcraft 1900d. Both these aircraft have distinguished themselves in terms of safety and reliability throughout the carrier's Africa operations, specifically in Nigeria, South Sudan, Mali, Senegal, Tanzania and Botswana.
Further, CemAir, through its 2.5% commission offering to partners and travel consultancies, has good links to international business travellers, enabling them to access connecting flights from Johannesburg, concludes Van der Molen.