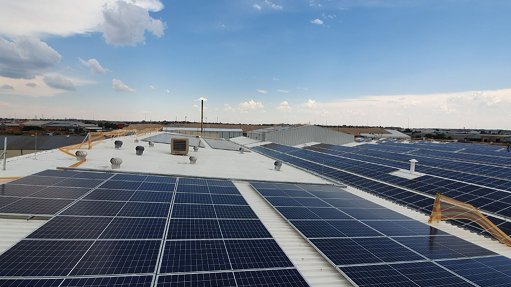 Sopal power panels at one of CCBSA's manufacturing plants.
Coca-Cola Beverages South Africa (CCBSA) has ramped up its solar power generation capacity, with seven of its 13 manufacturing facilities now using solar power.
CCBSA plans to install solar power capacity at a further five of its plants by the end of this year.
In 2018, CCBSA initiated a renewable energy project as part of the company's sustainability commitment and strategic objectives, focusing on the installation of solar power at its manufacturing plants.
The company began rolling out solar photovoltaic (PV) panels at its plants located across the Free State, Eastern Cape, Gauteng, KwaZulu-Natal and at Elgin, in the Western Cape.
The company aims to generate up to 18 313 MWh/y, or 11% of the company's total electricity demand based on 2019 use. This had initially been scheduled for completion in mid-2020.
"[Owing] to delays as a result of the coronavirus pandemic, a total of only 1 860 MWh of solar energy had been generated by the end of August across all CCBSA plants," says CCBSA manufacturing and technical director Henry Peek.
He says that while this is lower than the company's initial projections, CCBSA remains well on track to reaching (and surpassing) its 2019 total generation of 2 905 MWh.
Solar PV plants were commissioned at CCBSA's Premier plant, in KwaZulu-Natal, as well as its Tannery and Gutsche plants, in Bloemfontein, in the Free State this year.
These added to the Devland, Heidelberg, Pretoria and Midrand plants that were already producing solar power.
Engineering teams are now preparing to complete additional projects at the company's Phoenix, Lakeside, Wadeville, Polokwane and Elgin sites.
"To make better use of this additional capacity, the next phase of our project will be to engage with municipalities to explore power export agreements, so that this much-needed energy can go back into the national grid for our communities to benefit from green energy," he adds.