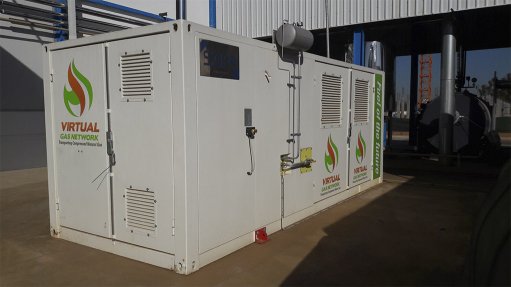 ACCESS FOR GROWTH Importing and increased access to LNG would allow for downstream development and could help Virtual Gas Network become a national gas distributor
Increased demand for converting to the use of natural gas from heavy fuel oils for energy solutions has led to opportunities for compressed natural gas supplier Virtual Gas Network.
The introduction of the Carbon Tax Act in June this year has led to an increase in awareness in the industrial and mining sectors, and has encouraged companies that are active in these sectors to reduce carbon emissions using alternative fuels, says Virtual Gas Network MD Stephen Rothman.
"Before the Act was introduced, not many companies considered alternative fuels, and the ones that did purely considered cost as a reason."
The Act means taxes will increase accumulatively for companies that are not reducing their carbon emissions, and the many local industries that continue to rely on using heavy fuel oils or coal for energy, will be incentivised to convert to natural gas.
Rothman points out that this has led to Virtual Gas Network receiving more requests from companies – such as those using food processing or production systems, particularly systems that run boilers, heating processes, ovens, and use paraffin – wanting to convert from using liquefied petroleum gases (LPGs), heavy fuel oils and diesel to using compressed natural gas.
Compressed natural gas could be used to service industry applications of up to 5 MW, while liquefied natural gas (LNG) would be able to service applications more than 5 MW. Compressed natural gas would be ideal for vehicles of up to 300 hp, while LNG could be used for large trucks and long-distance haulers.
"This would be our low-hanging fruit and is a big opportunity for growth in our market."
Rothman does, however, highlight that a significant challenge lies in the lack of access to natural gas, particularly from integrated petrochemicals and energy company Sasol's pipeline of gas.
Sasol has been importing natural gas from Mozambique since 2004 and uses the majority of the natural gas for its own production processes, which leaves a limited amount of gas to the local market. Rothman states that this limits the growth of Virtual Gas Network, and the extended local gas industry.
"We're growing steadily, and currently have spare gas capacity five to ten years ahead – we need to have alternatives to Sasol's pipeline."
Public-Sector Conversions
Rothman enthuses that this increased awareness, and willingness to use natural gas for energy purposes also extends to the public sector.
Virtual Gas Network has been involved in the installation of natural gas boiler systems in the final phase of the Gauteng Department of Infrastructure Development's 'greening' initiative at provincial hospitals.
The initiative of converting boilers from coal to operate on natural gas began in August 2015 in conjunction with the Department of Health, and is about 80% to 85% complete in terms of converting to natural gas. It was supposed to be completed in September 2018, but owing to a lack of funding in the department, some have not been converted.
Converting hospitals' coal-burning boiler systems to natural gas systems reduces carbon emissions and allows for more economical maintenance.
Virtual Gas Network was contracted to supply natural gas to Tembisa, Kopanong, Yusuf Dadoo and Discoverers hospitals, which were completed in 2015. An additional six contracts for the supply of natural gas and conversion of coal-fired boilers to natural gas were awarded to the company in 2016, of which four –for the Steve Biko, George Mukhari, and Pholosong hospitals, and the Dunswart Provincial Laundry – have been completed.
While Rothman emphasises the health benefits and cost effectiveness of the gas solutions, particularly over the long term, he argues that the state of the local economy has led to government departments being more concerned about having immediate funds for daily operations than the conversions.
"That's the short-term challenge we face in the country. In the longer term, we'll save money, but there are still companies buying heavy fuel oils at extremely low prices. Because of the funding pressure, having someone heading up a government department to think of a 10 to 15 year horizon, is also a challenge."
Rothman emphasises that this lack of funding in the public sector is a significant reason for Virtual Gas Network's focusing on private entities, particularly owing to the low gas allocation afforded to the company.
The increase in activity in the private sector could also be linked to the consistency of the price of compressed natural gas, particularly when compared with the volatility of fuel and diesel prices, he suggests.
The National Energy Regulator of South Africa's stipulated price for natural gas has remained consistent, changing only about approximately 4% in the past 12 months.
This contrasts with the price for LPG, diesel, paraffin and petrol which are affected by volatility, he states.
"For us, the future of gas would be realised with importing and increased access to LNG, which would enable us to do LNG and compressed natural gas downstream distribution. Currently, it's only regional. Once we have our big movements in the industrial sectors, we can start calling ourselves a national gas distributor," he concludes.