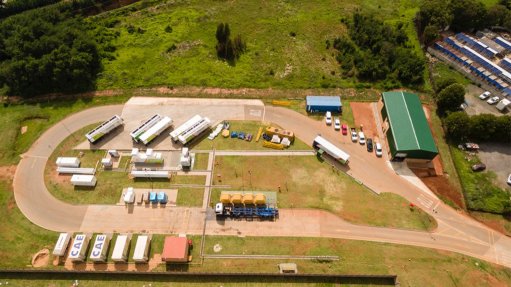 UP IN THE AIR An aerial view of the revolutionary Langlaagte CNG filling station
Gas suppliers CNG Holdings, through its wholly owned subsidiary Virtual Gas Network (VGN), will start the installation of two natural gas boiler systems – the final phase of the Gauteng Province Department of Infrastructure Development (GPDID) Greening Initiative – at provincial hospitals on the Far East Rand and in Pretoria next month.
The project – which initially started in August 2015 in conjunction with the Department of Health – aims to reduce the carbon footprint of ten State-owned hospitals by March next year. Converting the hospitals' heavy coal-burning boiler systems to cleaner natural gas systems will not only reduce carbon emissions but also allow for more economical maintenance of the systems.
"VGN was initially contracted for the gas supply only, but to lower the conversion process timeframe, we supplied a turnkey solution that included design, boiler conversion, civil works, piping and equipment installation, gas supply, as well as the required MHI certifications," says CNG Holdings CEO Stephen Rothman.
The GPDID contracted VGN to convert four State hospitals to compressed natural gas (CNG). The Tembisa, Kopanong, Yusuf Dadoo and Discoverers hospitals converted to CNG in 2015, and are now running on natural gas, a much cleaner energy source.
Once VGN proved its efficiency and gas utilisation was a lot less than budgeted for by the GPDID, an additional six hospital contracts were awarded to the company in 2016, four of which have been completed, with the systems fully operational. The Steve Biko, George Mukhari, Dunswart Laundry and Pholosong hospitals range between 2 500 GJ/m and 10 000 GJ/m, of energy per month.
The conversion process includes a turnkey solution as well as refurbishing the boilers for gas burning, civil construction to lay manifold high- and low-pressure piping, creating bays for on-site trailers and installing a containerised pressure regulating plant. "A boiler would need to be in the best operational condition prior to being converted, ensuring that best possible efficiencies are achieved after the conversion," adds Rothman.
All supplied equipment is controlled by VGN, with the company subsequently taking responsibility for equipment service and maintenance. Certified technicians conduct routine inspections on every trailer refill to ensure equipment is being operated correctly and efficiently. This ongoing preventive maintenance also benefits the hospitals with regard to downtime savings, as the coal systems often clogged the boilers and required extensive maintenance.
Further, natural gas is also a burning fuel and reduces residue, stench and carbon build-up, significantly lowering maintenance requirements, extending service intervals and prolonging overall equipment life.
"By converting these ten State-owned hospitals to using CNG, the GPDID is setting an example to use more environment-friendly fuel sources. The GPDID also benefits from the maintenance and cost implications thereof," concludes Rothman.