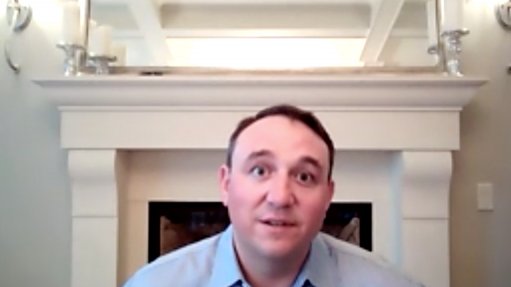 Carbon Infrastructure Partners president Craig Golinowski
Photo by: Creamer Media
JOHANNESBURG (miningweekly.com) – Carbon capture and storage is one of the tools in the toolkit that needs to be included in the decarbonisation mix if the world is to reduce emissions effectively over a reasonable time horizon.
That is the view of Carbon Infrastructure Partners president and managing partner Craig Golinowski, who reports that broader recognition is being given to carbon capture's role in carbon emissions management. (Also watch attached Creamer Media video.)
Speaking to Mining Weekly in a Zoom interview, Golinowski admits to having a massive amount of respect for the advances that have been made in the field of renewable energy and green hydrogen generation.
But he points out that the time horizon required for this to replace the world's existing hydrocarbon system would be needlessly long if used as the sole solution.
He advocates carbon capture and storage as one of a portfolio of solutions that can produce more rapid results against a background of energy prices and carbon prices likely heading for "very much higher" levels.
He views reliability is an increasing problem owing to renewables being intermittent and foresees a tougher set of energy circumstances going forward.
"I fundamentally think that hydrogen needs to play a much larger role as an energy carrier in our system. We can produce hydrogen at an incredible scale using natural gas, taking the carbon out of it, putting that back int the subsurface and having an incredible amount of hydrogen. That is how we use less diesel.
"So, heavy trucks, the freight trucks that we are relying on for all our consumer products run on diesel. Those trucks can be run on hydrogen. The quantity of hydrogen needed to replace diesel is staggering. We can force that to happen by building more solar panels and or we can also convert natural gas into hydrogen and run those trucks that way and have a significant benefit to emissions.
"You can make natural gas into hydrogen with carbon capture. We refer to that as blue hydrogen. Electrolysers are great. We can use solar energy through an electrolyser and with that produce hydrogen but the amount of electricity need to do that is a known amount of electrics.
"We know the energy needed to crack water into hydrogen and oxygen with electrolysis. That amount of energy is a big number and so that's the problem," says Golinowski.
Alternatively, natural gas through steam reforming and carbon capture could provide the hydrogen required without having to build solar panel on such vast amounts of land.
Carbon Infrastructure Partners, according to its website, is a private equity firm targeting risk-adjusted returns across the carbon life cycle, from hydrocarbon-based energy production through to carbon capture utilisation and storage.
The firm's two distinct fund strategies enable investors to meet net zero commitments and position for higher expected carbon-prices and increased global demand for energy.
Its carbon capture and storage strategy seeks to reduce global emissions rapidly, by targeting investment opportunities in companies that capture, utilise and store carbon dioxide.
Bank of America recently estimated that investment in carbon capture and storage is set to rise steeply.