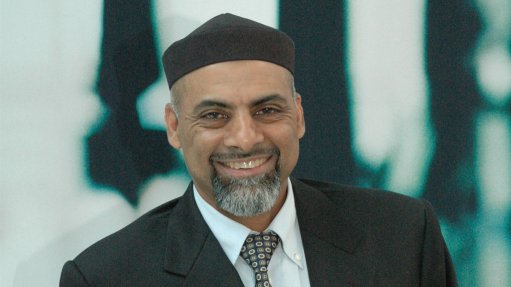 MOHAMED MADHI Advisian assists companies in understanding how to tap into and use the big data concept by developing a comprehensive map of all data flows available
Enhancing shareholder value, improving the way businesses operate and compete, and obtaining real-time insight into consumers, risks, profit, performance, and productivity management are all core elements of Big Data and analytics, which is a digital enterprise capability available from Advisian, consulting engineering firm WorleyParsons' global advisory business.
Advisian sub-Saharan Africa MD Mohamed Madhi says the company's Big Data and analytics capability provides more certainty to clients than ever before by tapping into every possible source of data available.
A relatively new concept to Southern Africa, Big Data and analytics can be applied to both new and existing operations in many sectors of industry. Madhi says it will prove highly beneficial, particularly to the power generation sector where data such as billing information, and digital technology such as smart meters, allow better understanding of load patterns to optimise operations.
Big Data and analytics relies on tapping into as much raw data as possible, comprehensively analysing the data and then capitalising on it, thus allowing commercial enterprises to optimise their operations and become more cost effective.
Digital technology is used to generate, store and process data, while digitalisation then uses this information to create value for the organisation.
By processing Big Data, digitalisation and advanced analytics can be used to create virtual plants, access real-time market data to manage operational schedules, and plan and optimise production while simultaneously improving monitoring and control.
Big Data solutions include real-time monitoring to help identify abnormal conditions as they arise; providing real-time status updates to stakeholders; looking at alternate ways of organising, distributing and transacting units of value through a block chain approach; and smart optimisations such as smart grid power utilities that can predict demand by location and segment their customers accordingly using smart meters and analytical solutions.
"Before the benefits of Big Data analysis can be realised, comprehensive and effective data mapping is required. Advisian assists companies in understanding how to tap into and use the Big Data concept by developing a comprehensive map of all data flows available," explains Madhi.
He mentions that the next step identifies data gaps throughout all operations before sensing, monitoring and recording all data flows. The final stage is capitalising on data analytics to improve operations.
Madhi adds that detailed data mapping and identifying data gaps assists in optimally matching operational supply with customer demand, while the ability to sense, monitor and record data flows has recently become more readily attainable through advancements in technology and digitalisation.
"The latest sensor technology makes previously unobtainable information readily available as sensors can now be placed in hostile and volatile environments such as those with high temperatures or high pressures for example, while fast-paced innovation in connectivity and social platforms allows market-related data such as user habits and use demands to be relatively easily obtained."
Moreover, Madhi notes that, as smart and connected equipment becomes the norm and new sensor-based features become available, adapting technology infrastructure becomes critical for success, and this is where Big Data and the associated analytics are key to providing a competitive advantage.
Drawing on WorleyParsons' global capabilities and resources, the Big Data and analytics capability was developed by Advisian's global digital enterprise business line and offers large-scale data analysis to optimise future projects, and allows WorleyParsons to deliver and execute projects in a highly efficient way.
Madhi says, while there are companies in the country offering statistical data analysis, Advisian is in a position of being able to offer a digital enterprise capability combined with engineering skills grounded in years of experience.
Advisian provides consulting services focused on asset intensive businesses operating within the hydrocarbons, minerals and metals, chemicals, power and infrastructure sectors. The company focuses on harnessing the significant experience of their locally based teams with their strong global capabilities to provide their customers with access to world-class capability across a wide range of industries and asset portfolios.