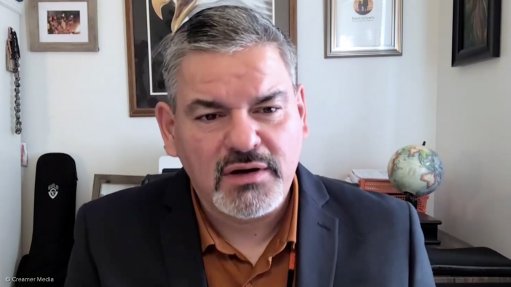 Bimaadzwin CEO Isadore Day
Photo by: Creamer Media
JOHANNESBURG (miningweekly.com) – Hydrogen systems are not only going to be green, clean and low emission but they are also going to be local – and Canada's First Nations see them as an indigenous reconciliation opportunity.
"They're going to be local energy systems," Change Energy principal Rymal Smith said in response to Fasken hydrogen and energy advisory team co-lead Dan Brock, who moderated the webinar in which Bimaadzwin CEO Isadore Day, who presented the case for indigenous communities, and Change Energy principal Al Davidson also took part.
Once a hydrogen microgrid energy system is up and running, it becomes a full-on utility with water management and, depending on the system, clean water production. As waste heat is captured from the system for space heating, it has heat production. Its electricity production can also be used in a number of different ways.
All that infrastructure built on site by mining companies can be left as legacy equipment that can then provide that energy system for the benefit of communities.
"Whether the hydrogen system is put adjacent to the town and the services are shipped to the mine, or from the mine brought back to the town, people living locally can manage those facilities on into the future," Smith told the Fasken hydrogen and mining webinar covered by Mining Weekly.
Resourcing being a big issue can result in local technicians being trained to operate the systems, providing the potential for an entire ecosystem being developed around hydrogen microgrids for the benefit of the community as well as the mining industry.
Day, a former First Nation chief and an advocate of First Nation participation in the mainstream economy, has recently been paying attention to hydrogen energy as an opportunity for socioeconomic growth within indigenous First Nation communities.
Day highlighted the growing importance of environmental, social and governance (ESG) in the way the world was dealing with climate change.
He said that the issues around climate change for those in the remote north of Canada were acute, impacting on the daily lives of individuals.
"The level of poverty that exists in our communities is getting us to focus on these types of solutions in a way that gets us to think a little bit further," Day said.
"The relationships that indigenous communities across Canada are having are based on nationhood versus just an individual First Nation that once had very little to say about development in the territories.
"First Nations are very much affixed to their territories, have a long history that is even pre-confederate, and nowadays governments are recognising that indigenous people are going to play a much deeper role in development.
"When it comes to hydrogen, I think our starting point in the relationship is that of not just having the rights to the territory but our responsibility to establish the jurisdictional intelligence around how we work with that, how we make decisions.
"Furthermore, how the government invests in that scenario, is going to have a lot more weight when we sit down across the table with indigenous negotiations," said Day, who has an interesting take on ESG in that he adds two more letters to the acronym, to create ESGIR, with the IR standing for indigenous reconciliation.
When it comes to the I, Day pointed out that may of the communities would once have said that the I stood for Indian, meaning the Indian Act, a piece of legislation that confined indigenous communities, now called First Nations, to pieces of land where there was full control by the federal government.
"That has since changed. Indigenous issues have now become the platform for solutions and reconciliation between crown governments and First Nations, i.e. indigenous communities, and have now advanced in the area of social justice, economic justice and access to decision-making.
"When you look at the baseline standards that business development relationships are building on, in environmental, social and governance, or ESG, indigenous is very much at the front end when it comes to sitting across the table," said Day.
In Canada, reconciliation explained in economic terms was, he added, access to the types of economies that would allow First Nations to build self-sufficiency and participation in the country's economies.
"Those are the two additional elements that we will be talking about and doing our work on when it comes to ESGIR," he added.