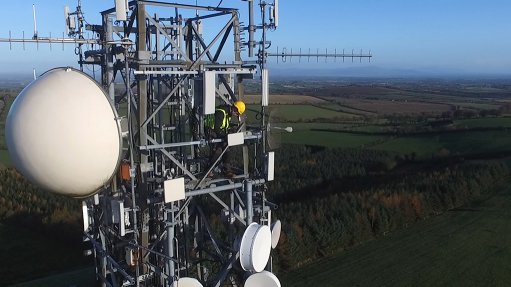 CABLE FREE COUNTRY The significant cost associated with cable theft in South Africa is forcing internest service provider to find alternative methods of providing connectivity
South Africa's cable-theft pandemic has made the prospect of a copper-based fixed digital subscriber line (DSL) infrastructure framework unachievable for the country's Internet service providers (ISPs), says international wireless connectivity provider RADWIN.
RADWIN sales director Nick Ehrke tells Engineering News that fixed copper infrastructure – while being a viable and popular connectivity platform for other countries – is simply not cost effective in South Africa. He explains that the UK, for instance, uses a predominantly copper-based infrastructure, with only 1% of the country's business and home connectivity relying on fibre connectivity alternatives.
He adds that DSL connectivity is a popular option in the international market because it relies on sound, robust technology that "works well" for basic Internet and voice services.
However, Ehrke says South Africa has not been able to continue to build up a fixed connectivity framework in the same way other countries have managed to do. "What we are seeing in South Africa is the inability to use traditional copper means to connect people because of the high rate of cable theft."
The ongoing theft of copper cable lines requires the incumbent fixed line operator to continually spend exorbitant amounts on cable maintenance and replacement while consumers are subsequently also being forced to consider alternative means of meeting their "insatiable" demand for connectivity, he states.
Ehrke further emphasises that the capital and time wasted on the continual efforts to replace and manage copper infrastructure is having far-reaching ramifications on the country's connectivity, innovation and growth.
"When you spend 80% of your resources keeping the lights on and in maintenance of legacy infrastructure, innovation suffers and market expansion does too."
He declares that the connectivity in developing economies, such as South Africa's, is critical to their growth: "It has been proven time and time again that, if you give people connectivity and access, they are able to improve the means of production." He cites a recent study by the World Bank, which shows that a 10% increase in fixed broadband penetration in developing countries would result in an additional 1.35% increase in their overall gross domestic product (GDP). He further states that doubling mobile data use would result in a 0.5% GDP growth.
Ehrke says it is critical that ISPs in South Africa find a more affordable and secure method of providing its users with connectivity – RADWIN can provide ISPs with a wireless broadband solution that is "designed from the ground up to be the most efficient, effective and reliable product on the market". RADWIN is an innovator in the fixed wireless access market, offering advanced technologies as beamforming, interference mitigation and advanced interference mitigation, which enables service providers to provide fibre- like broadband service to its subscribers.
Terragraph Project
Complementing its leading and deployed Sub-6 GHz PtMP/PtP portfolio, RADWIN recently announced its mmWave mesh solution at 60 GHz. The 60 GHz self-organising wireless mesh solution leverages technologies from Terragraph, a 60 GHz multi-node wireless system, to deliver a low-cost solution for high-speed wireless access, complementing metro fibre. Trials are scheduled to start later this year, one of them is with a large South African service provider. He adds that the solution will lower the barriers of entry in providing Gigabit last mile connectivity for residential and enterprise users
.