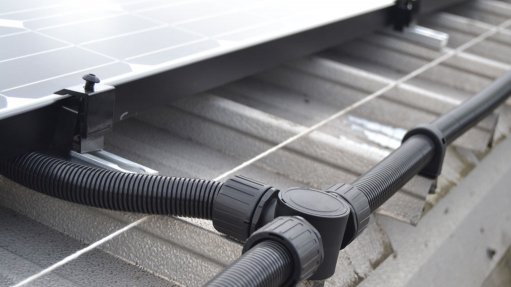 CABLE WEAR AND TEAR Cable damage and degradation can affect the long-term viability of photovoltaic installations
Despite the harsh environmental conditions that many photovoltaic (PV) installations are subject to, cable protection is often overlooked, reports electrical component, tool and machinery supplier Elquip Solutions MD Mike Cronin.
"Cable damage and degradation can affect the long-term viability of PV installations and could pose serious safety concerns. Most PV installations are expected to last 25 years. Owing to this, significant care should be taken when selecting components for the installation," he says.
Elquip Solutions has been associated with flexible conduit systems manufacturer Flexicon, a forerunner in the conduit systems market. Owing to this, Elquip is able to offer to the South African market a comprehensive range of flexible conduit systems and components to suit every conceivable industry.
"Flexicon's conduit systems provide superior cabling protection, particularly in high-demand, hazardous environments, such as in the rail or mining industries, as well as any external installation. Solar PV installations are by their nature outdoors, which means that the cabling is potentially exposed to extremely harsh environmental conditions, including ultraviolet light, water and changes in temperature from below freezing to hot sunshine," says Cronin.
Flexicon has developed two broad product ranges of conduit solutions, metallic and non-metallic, available from 10 mm to 106 mm in diameter. The company also has a range of patented fittings and connectors, locking and non-locking, designed for ease of use and adaptable for any application, says Cronin.
He highlights that the durability of cables in solar installations is becoming more and more important as power supply problems persist.
Cronin warns installers that cutting corners and opting for "cheap imports" when it comes to cabling protection will hinder the efficiency of the system and increase the likelihood of maintenance and downtime. He adds that risk assessment is crucial in the process of selecting the most suitable conduit system for long-term external installation.
"Get it right and you will prolong the life of the cabling and even more importantly protect people from electric shock. When so much is at stake, it pays to select a system that will withstand a range of hazards to ensure prolonged cable life, personal safety and long-term cost-savings," Cronin states.
Elquip Solutions is also able to provide boxes, suspension and roof ventilation systems to cabinets for housing network servers and distribution boards, as the company has formed a partnership with Italian enclosure manufacturer Zanardo.
"Zanardo prides itself on producing enclosures, which are sufficiently versatile to meet the most diverse systems requirements, yet robust enough to guard against wear and tear. We in turn pride ourselves on a comprehensive stockholding and competitive pricing structure, thereby ensuring Zanardo's local customers easy access to equipment through the company's distribution network," Cronin points out.
The company's product lines make use of casings constructed from welded steel monobloc structures, and steel sheet drawn-column bearing frames, states Cronin, adding that side panels, back panels and doors are manufactured in steel sheet with a thickness of 1.5 mm or more, while internal plates come in galvanised steel of 2 mm and upwards.
The items are available in multiple sizes and configurations and the company also manufactures units in stainless steel, which include junction boxes, hanging boxes and control consoles. He adds that Zanardo even offers customisation of its products for customers who cannot find an exact match for their requirements in the company's extensive catalogue.
"Owing to Zanardo's variety and quality of enclosures, it has a market for their products around the world. Elquip Solutions is proud to have represented them, and to have supplied their products to South African industry, for the past 15 years," says Cronin.
He points out that Elquip can ensure rapid delivery of Zanardo's products, and can also assist with installation where necessary.
"We are very proud to be the long-term local distributor of such an extensive range of quality products, which assist in protecting the electronic nerve centres of South African business," Cronin concludes.