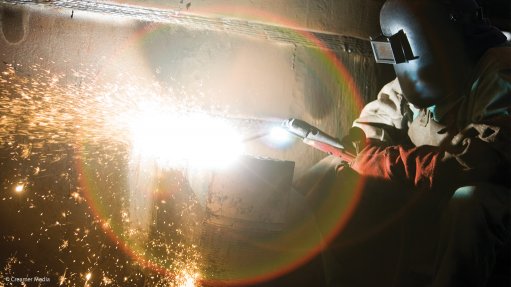 Photo by: Creamer Media
Business is aiming to progress ongoing negotiations on the use of local-content regulations to revive manufacturing in South Africa beyond calls for blanket import substitution by identifying specific products or sectors where the country has the competitive advantages in place to increase domestic production.
Trade, Industry and Competition Minister Ebrahim Patel has requested business to consider an import-substitution target of 20% for non-petroleum imports, which he says could drive progressive localisation worth up to R200-billion over the coming five years.
Patel made this request to the social partners participating in the National Economic Development and Labour Council (Nedlac) and subsequently reported that some 30 'CEO champions' had been nominated from the private sector to support this localisation effort.
Speaking during a 'Localisation Policy Options' webinar, hosted jointly by Business Unity South Africa (Busa) and the EU Chamber of Commerce and Industry in Southern Africa, Busa CEO Cas Coovadia indicated that negotiations remained at an early stage and had not yet been concluded.
He also stressed that business saw the 20% import-substitution proposal as an "indicative target" rather than a final policy position.
The various Nedlac partners had differing views on the matter and business was participating in the negotiations with the aim of reaching a "workable" and "pragmatic" outcome, underpinned by the need to bolster business competitiveness and productivity.
"As Busa, we do not see the objective of localisation as being only import substitution. We see localisation's objective as identifying South Africa's competitive advantages in producing some more goods here," Coovadia said.
Business would also only support an outcome that was in line with South Africa's international trade commitments and that did not have a "negative impact on our trade relations with other countries".
Earlier in the year, Busa and Business Leadership South Africa commissioned Intellidex to produce a report on localisation, which was published in May.
The report included a survey of 125 Busa members, which indicated that they would be supportive of higher levels of localisation under the "right conditions", but that such conditions were not yet in place.
Intellidex's Peter Attard Montalto told webinar participants that the report pointed to the dangers of a "one-size-fits-all" approach to localisation, which should rather be pursued at a sector level where the capacity was in place, or could be developed, so that localisation did not undermine price competitiveness and quality.
Herbert Smith Freehills partner and Africa chair Peter Leon said that government also needed to be alive to the trade-law implications, while questioning the legality of some current policies being pursue in support of localisation.
He was particularly critical of the local-content prescriptions contained in the 2018 Broad-Based Socio-Economic Empowerment Charter for the Mining and Minerals Industry, which he said appeared to contravene the World Trade Organisation's General Agreement on Tariffs and Trade (GATT) as well as the General Agreement on Trade in Services (GATS).
South Africa is a signatory to both.
He argued that the stipulation that mining rights holders procure no more than 30% of their mining goods and 20% of their services from foreign companies may constitute a contravention of the national treatment principle contained in both the GATT and the GATS.
Leon had similar misgivings over the legality of localisation policies being implemented by the Department of Trade, Industry and Competition.
"Therefore, while the proposed localisation measures may have laudable objectives, they could have a materially detrimental impact on the economy," he warned.