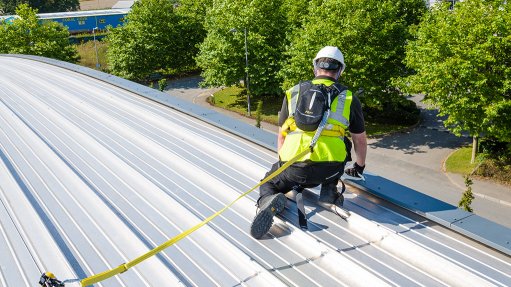 Nelson Mandela University has found that the indirect costs of falling-from-height (FFH) accidents are 14.2 times the direct costs, reports the Federated Employers Mutual Assurance Company (FEM).
This is backed by UK-based Health and Safety Executive research, which determined the indirect costs of FFH accidents to be 11 times the direct costs.
In the UK, the accidents costs are the equivalent of 8.5% of the project tender price and about 5% of the yearly organisational running costs, while in South Africa accident costs are estimated to be about 5% of the value of completed construction.
In South Africa, the Institute for Working at Heights (IWH) and Master Builders Association offer training on the necessary precautions against FFH accidents.
Falls from buildings are the most hazardous when working at height due to overlapping factors, which include wind velocity, structure height, risky activities and workers' attitudes.
These risk factors require proactive interventions. For all intents, work taking place any time from when a worker leaves the ground to do a certain job is considered work from heights.
In addition, primary contributing factors to mortalities caused by FFH include age, attempted suicide, height of fall, type of ground on which the patient fell, place of fall, and head, thoracic, and abdominal trauma.
To further equip companies to mitigate FFH accidents, the IWH is committed to regulated and controlled training of all persons exposed to the risks of working at height, strictly in accordance with the requirements of the National Qualifications Framework. These services include being awarded professional designations and becoming registered practitioners of the institute, bound by a code of conduct that is administered by the institute.
According to the institute, any practitioner that is found guilty of a serious breach of this code can have their professional designation revoked by the professional body.
What is often overlooked is the associated costs of such accidents for both individual and company, including medical expenses not covered by the Compensation for Occupational and Diseases Act, income shortage, no future career growth owing to disability, no lifestyle improvement for the surviving spouse and limited education options for children.
On the company front, there are the loss of rebates and possible loadings (increased premiums), additional expenses to make the site safer, cleaning up and repairing the damage or faults, immediate staff downtime and lost work time, third-party investigations, and salaries for replacement workers. The most far-reaching costs for the employer are loss of company reputation, loss of profits, loss of skills and union interventions.
Passive strategies to preventing FFH include on-site precautionary measures, education and training and analysing the fall accidents data for future plans.
Proactive methods include additional education and training, safety training courses for workers, seminars and talks focusing on work at height risks, minimising the amount of hazardous agents, researching and restudying to improve unsafe designs, regular safety regulations revisions and regular inspections.
The South African Construction Regulations stipulate that every work site must have a Fall Protection Plan that includes training for working at height, equipment for working at height and rescue procedures for working at height.
FEM said in a press release this week that it was still seeing accidents that could be prevented if there were proper planning and foresight. "Training and education, together with the provision of personal protection equipment and correct supervision, could aid in preventing accidents.
"A suitably trained individual is less likely to have an accident. The industry needs to take greater responsibility for controlling the risks of FFH."