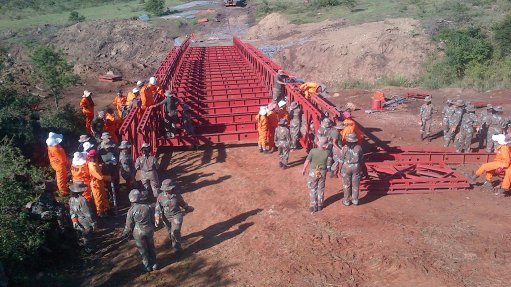 BFA is a proudly South African company, committed to providing effective solutions through high-quality, local manufacture. The company firmly believes that local manufacture can positively benefit all sectors of South Africa, from rural communities to the urban working class.
BFA operations commenced in 2009, with the refurbishment of out dated Bailey components, which were re used in the building of low-cost bridges across South Africa.
The company has since expanded to manufacture its own locally made bridges. It sources locally produced materials for each component and recruits labour from the local communities to work alongside its own employees. In addition, BFA supports local procurement, by sourcing materials such as sand, stone and cement from local suppliers. In this way, BFA has a direct, positive impact on job creation and the economy.
Every bridge manufactured by BFA requires the services of a number of skilled welders, engineers, and about 34 manufacturing employees. It also utilises 50 South African National Defence Force (SANDF) reservists and 60 local labourers, through the expanded public works programme.
To date, BFA has refurbished and manufactured 16 bridges, mostly in the Eastern Cape province of South Africa. In conjunction with the SANDF, the National Department of Public Works and the Eastern Cape Department of Transport, BFA has constructed bridges in the areas of Amazizi, Zazulwana, Bawa, Mancam, Nyosana and Matatiele.
The SANDF and the Eastern Cape Department of Transport have allocated the next phase of implementation for bridges in Nkobongo, Tora, Bilatye, Fini, Jozana and Sterkspruit.
BFA has created two types of low-cost bridges: the first follows the WWII era design by Sir Donald Bailey bridge and the second, more modern and cost-effective design will soon be tested by the SANDF.
The main purpose of these bridges is to improve and develop rural areas. They provide a number of practical benefits such as safe crossings for
children walking to schools and giving communities easier access to medical facilities and shopping amenities. In addition, the bridges greatly reduce the risk and high incidence of drowning during floods in rural areas, by providing safe passage over flooded rivers.
BFA bridges are also used in agriculture, where they can be assembled and disassembled in a short time. The service is offered to farmers on a 'hire or buy' basis, especially during times of heavy rainfall or flooding. The company ensures that it always has at least 30 m of bridge available to supply at any time.
Further, the SANDF uses the bridges during emergency operations, such as floods, collapsed bridges or impassable roads. BFA's pedestrian bridges are able to span greater distances than bridges constructed for vehicles. Substitute bridges can also be used as an alternative for diverted traffic, while a permanent bridge is being erected or repaired.
The South African adage "Local is Lekker" has driven BFA to the forefront of low-cost bridge manufacture and a focus on local needs is leading the company to expand its supply of high-quality products to the rest of Africa.