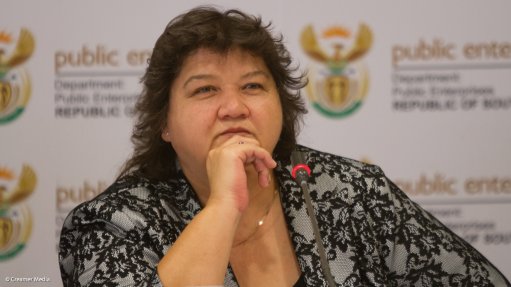 Public Enterprises Minister Lynne Brown
Photo by: Duane Daws
Public Enterprises Minister Lynne Brown says that South Africa is currently adding electricity capacity to the grid at rate higher than what is required and argues that the "current trajectory" could be detrimental to consumers.
She asserts, therefore, that it is "critical that the Integrated Resource Plan (IRP) is concluded so we can have a plan that offers maximum protection for consumers".
"So with low volumes, the price of electricity will have to rise to sustain the required level of revenue, meaning consumers will have to pay more for electricity."
Her argument appears to gel with one that has been made previously by Eskom, which has argued that the pace and scale of new independent power producer (IPP) connections, particularly renewables projects, be curtailed.
South Africa's highly acclaimed Renewable Energy Independent Power Producer Procurement Programme (REIPPPP) was thrown into doubt earlier this year when the State-owned utility wrote to Brown and Energy Minister Tina Joemat-Pettersson calling for guidance before signing new power purchase agreements.
Eskom argued that such guidance was required in light of changed circumstances, whereby the electricity market, which had been in deficit since 2008, was likely to experience a growing surplus until at least 2023.
As a result of Eskom's move some 26 projects that had already been adjudicated under the REIPPPP were placed in limbo. The impasse has not eased despite the recently released draft Integrated Resource Plan (IRP) stating that "all projects that are in bid window 4.5, expedited, smalls and the 900 MW of baseload coal are considered committed and will be included in the IRP update base case".
The South African Wind Energy Association has lodged a complaint against Eskom with the National Energy Regulator of South Africa and it is also considering legal action, owing to what it views as the utility's defiance of a Ministerial determination and stated government policy on the matter.
Writing in response to a Parliamentary question posed by the Democratic Alliance's Dean Macpherson on what steps had been taken by the Minister to secure the investments, Brown noted that the IRP review would "provide appropriate guidance on technology, scale and timing of the electricity requirements for the country with the objective of meeting energy security and diversifying the energy mix".
However, she stressed that the assumptions in the prevailing IRP, which is six years out of date, needed to be updated "to provide a robust plan", particularly given far weaker demand growth than that assumed in the existing plan.
"The current capacity being added on the grid is based on the IRP 2010 which projected higher demand for electricity based on the economy growing close to 6%. This means that we are currently adding on capacity to the grid at a rate higher than what is required," she wrote,
Brown added that there was a risk of plants becoming "stranded", noting that there were grid limitations to Eskom pursuing a more aggressive export strategy.
"These Eskom assets belong to the South African public, I have a responsibility to safeguard these and ensure that South Africans derive maximum value," she said, arguing that this was particularly critical at a time where Eskom's balance sheet was highly indebted due to the build cycle.